7 Resolutions For Your Business in 2021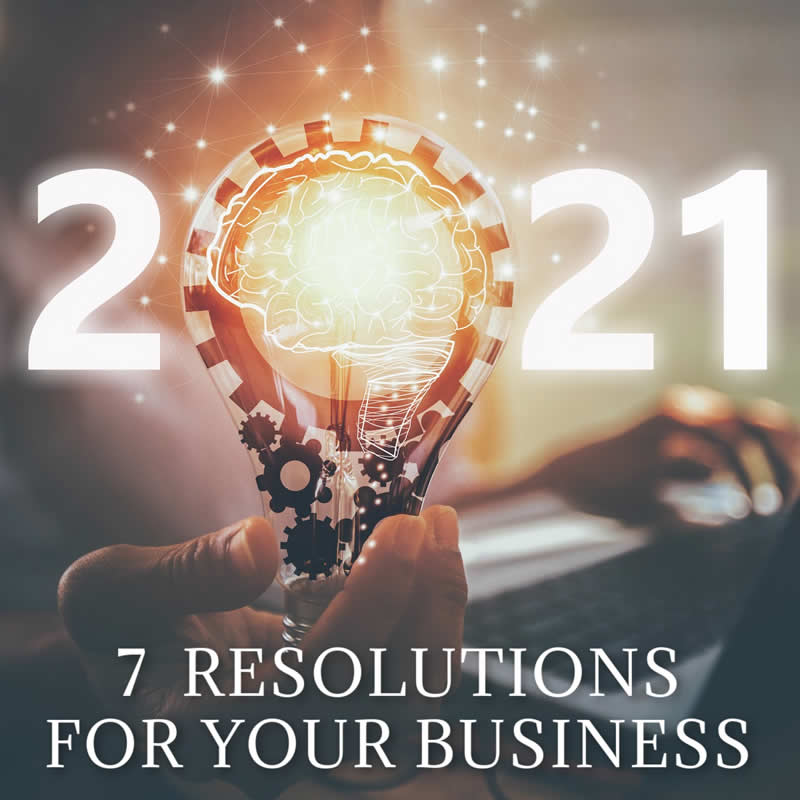 After testing the limits of our resiliency, this tumultuous and unpredictable year has finally come to an end. As we start looking forward to the new year, it is a great time to evaluate the past year and get your business ready for the upcoming year. It is never too early to get started with setting goals and planting the seeds today for success tomorrow!
You may make personal resolutions at the start of each year with the intention of setting goals and bettering yourself – why not make some resolutions for business goals and success also! Here are a few ways you can start preparing your business for success in the new year.
1 – Tidy up!
A cluttered workspace can make staying organized and working efficiently difficult. If your space has been overtaken by clutter, make one of your business resolutions to commit to reorganizing as you start off the new year and doing this on a regular basis throughout the year. This includes giving your workspace a good cleaning, but also going through files and paperwork and getting rid of anything that is no longer needed. If you have a corporation, keeping your corporate documents organized is made far easier with the help of a Minute Book and other corporate supplies.
Organizing your corporate or business documents may also include updating the information on file, if any changes have happened. Corporations can update their address and director information through a Notice of Change, and registered businesses can make address changes through an Amendment. If you cannot remember the last information that was filed, you can order a Profile Report for your corporation or a Business Names Report for your Master Business Licence to see what is currently on file.
2- Streamline your devices
Cleaning up your workspace also includes cleaning and organizing your digital systems, including computers and phones. Perhaps you downloaded some apps that you never ended up needing, or your computer has outdated files bogging it down. There are a number of helpful apps that make it easier to complete different tasks, so find the ones that work best for you and your business. Purging apps and digital files that are no longer required helps free up space, get more organized and helps your computer systems to run faster.
3- Take a look back
Sure 2020 was not at all what we had expected it to be when we were toasting to the new year, but it is still important to take a look back at the past year and do an in depth evaluation of your business strategy and performance. You may not have reached all of your business goals this year, and given the circumstances of the past year it would not be a surprise if this was the case. But, you can always evaluate what did work, what might need to be revised and what can be done away with completely. Can any improvements be made to your marketing plan or social media plan to help with building your brand to attract new customers? See where you are at with each of the goals you had set last year, and make a plan for how you will further those goals in the new year.
4- Prepare for tax time
It may not be time just yet to file your taxes, but getting things organized now will give you a head start to being prepared when the time comes. Keep in mind that, with all of the government supports made available to businesses in 2020, this year's tax filing may look quite different than any you have done before. You may also want to speak to an accountant about any new tax benefits and write-offs you may be able to utilize. Tax time can be a busy and stressful time of year, so if you get a head start on it, when the time comes it will be much easier to get through.
5- Get a scheduling system that works
Getting and staying organized works best when the system you use works for you. Is the scheduling system you currently use the best option for you and your business? If not, change it! Using the newest and most high-tech calendar program may seem like it is the best idea, but that is not necessarily the case. Many people prefer a good old fashioned paper calendar book, so find what works best for you.
6- Commit to being more social
Social media plays a huge role in building your brand and creating a strong online presence. Aside from your business website, you will want to make sure you are active on a number of social media platforms to help reach and attract new customers. Update and post new information on a regular basis with the help of social media management tools that help consolidate your social media accounts for easier maintenance. You can pre-schedule your posts every day, so it is automated and you don't have to worry about spending time every day posting your content. Social media management tools also help you communicate more quickly with customers who may have questions and get their feedback.
7- Get ready for a great year!
As 2020 begins to move to the rearview mirror, let's start looking ahead to bigger and better things to come. Revamp and revise your business plan where needed, and start setting your goals for the new year, along with milestones to hit along the way. Remember to set realistic goals, both personally and for your business. Business plans can sometimes change, so give yourself some room to make adjustments to your business strategy along the way, and get ready for a great year ahead!
Expanding your business in 2021
There are so many opportunities out there for growing your business and expanding into new ventures. If this is something you are interested in, you have a few options when it comes to registering your new business ventures.
If your existing business is registered as a Sole Proprietorship or General Partnership, but you want to start a secondary business, it is as simple as registering a second business licence. The new registration lets you operate your new venture under a different operating name than your existing business, however, the business licences themselves are not connected.
For corporations, the process is nearly the same, however, the registration would be done as a Tradename or operating name under the corporation. This is linked directly to the corporation, allowing you to operate using the corporation name or the registered Tradename. A corporation can have as many Tradenames as you wish, allowing you to venture into a number of different business avenues.
Alternatively, you can keep the new business completely separate from your existing corporation and register as a new corporation. You will be issued a separate business number by Revenue Canada, as each corporation will complete separate tax filings.
If you have a new business idea you want to get started on, Ontario Business Central can help complete your new registration or incorporation quickly, sending everything you need to start your business right to your email.
REGISTER A BUSINESS
INCORPORATE A BUSINESS
BRITISH COLUMBIA INCORPORATION
If you need assistance with getting your business or corporate filings up to date, or if you want to start a new business venture, we are here to help. If you have any questions about the different types of business registrations and corporations, please feel free to contact us. We are here to help you as you embark on your entrepreneurial journey to start and grow your business. Start making your business resolutions success in 2021 now!
At Ontario Business Central, our commitment is to assist entrepreneurs as they grow their business successfully. If you have any questions about how to take the first steps to start, please reach out to our helpful and knowledgeable staff.
inquiries@ontariobusinesscentral.ca
Toll-Free: 1-800-280-1913
Local: 1-416-599-9009
Fax: 1-866-294-4363
Office Hours: 9:00am – 5:00pm
Monday – Friday E.S.T.
Ontario Business Central Inc. is not a law firm and cannot provide a legal opinion or advice. This information is to assist you in understanding the requirements of registration within the chosen jurisdiction. It is always recommended, when you have legal or accounting questions that you speak to a qualified professional.