Sole Proprietorship Business Registration in Ontario
Originally Published: Aug 5, 2019
As a new business owner, a priority is to determine what business type you will use to start your business endeavour. Your options are to register a Master Business Licence under the Business Name Act (Ontario) in Ontario as a Sole Proprietorship if you are a single or sole owner of a business. The alternative option is to incorporate your business under the Corporations Act as a single or sole director.
Do I Need To Register A Sole Proprietorship In Ontario?
Sole Proprietorships are the most common business structure set up. A Sole Proprietorship allows one individual owner to operate a business in Ontario and inexpensively provides a simple start to your business. If you are using your legal person name to operate your business, it is not mandatory to register a business; however, if your company has a business name, registering the Sole Proprietorship is compulsory in the Province of Ontario. Often when an individual uses his or her own personal name for the business, it can limit the accessibility to discounted rates from suppliers and requires much more explanation to third parties, including potential customers, what you do.
How To Choose A Business Name?
Choosing a business name is one of the most critical selections you will determine once you have decided on the structure. A business name should invoke a short message about what your business does with the consideration that you may expand into broadening products or services within your industry as the business grows. It is crucial to consider that the company's name cannot be changed without requiring a new registration. The name you choose today for a Sole Proprietorship will be the name of the business forever. As you begin creating ideas for your business's name, keep in mind a few general rules to follow. The business name should have something very unique to it. Examples include a personal or family name (Smith/Johnson/Neil's/Susan's), a dictionary word describing an element of your business such as quick, elite, professional, or a made-up word such as Krit, Vuxzo, Maxta or a geographical location.
Susan's Fancy Bakes
Elite Photography Toronto
Vuxzo Social Media Company
The business name cannot add the legal entity endings such as Ltd, Limited, Corporation, Corp, Incorporated or Inc. These are legal identifiers exclusively available to incorporated businesses.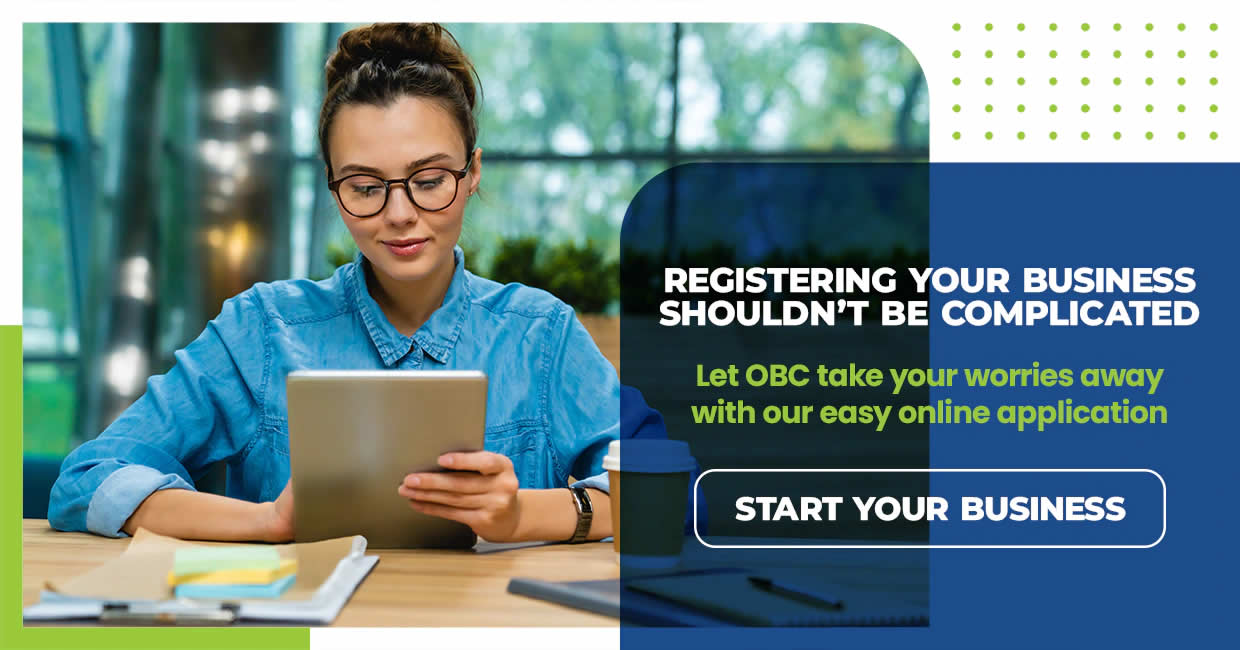 Searching for the availability of your business name
There isn't name protection available for your Sole Proprietorship's business name; however, it is essential to consider if you are comfortable with other business existing owners having and operating the same business name. If you do not wish to share the same business name with other businesses, you will want to investigate your chosen business name's viability. You can do browser searches at no cost and know whether your business name has already been selected by other business owners who have a web presence.
It is important to mention that once you have registered your business name, as stated earlier, there is no name protection, so another business under the same name may be registered or incorporated at any point after you have registered.
An important secondary element to searching a business name is to allow professionals to search the NUANS name search database. This data bank maintains records of most businesses registered, incorporated and trademarked throughout each Province or Territory in Canada, whether they have a web presence or not. The search results are much more thorough than what you can search for yourself online, and there are multiple variations of your business name previewed. The NUANS database is compiled from government records in most jurisdictions where individuals have registered, incorporated or trademarked.
A NUANS pre search or preliminary search is the best practice to search your business name before registration. We offer this service; it's called a NUANS preliminary search and is available on our website for $10.00 +taxes per business name search or three names for $20.00 +taxes either on its own or as part of the Sole Proprietorship registration process.
How To Complete A Domain Search?
Almost all businesses registering or incorporating today intend to have a web presence for their business. The domain name search allows you to search the business name within the domain system to see if your registered business name is also available to create a website. At no cost, you can search who is https://who.is/ which lists all registered domain names and will quickly give you an answer as to whether the business name is available for a domain name. By searching both by multiple browser searches and who is, this will give you a pretty good idea of both being available for your chosen name.
Registering Your Sole Proprietorship And Domain
As part of our commitment to new entrepreneurs, we offer the ability to search the business name in the NUANS preliminary data bank and domain name together for availability. Both the business name and domain name need to be available for our team to complete the transaction of registering your Sole Proprietorship and registering your domain. If the business name or domain name is not available, we do not proceed and wait for a new name option from you. The Sole Proprietorship is registered for 5 years, and the domain is registered for 1 year. Our office will email you in both circumstances to provide when either of these items requires renewal.
Choosing .ca and or .com
If your business operates in Canada, the .ca is the web country code for Canada and lets consumers know you are a Canadian company. The .ca also provides business owners with higher access to Canada's marketplace than other businesses with different country code web presence through Google and other browsers. Many entrepreneurs include the .com as well to have a universal country code. The .com is the most common choice for American companies. If you intend to provide business services to individuals or businesses outside of Canada, we recommend that you opt-in for the .com as well. By selecting both the .ca and .com, your brand has better protection against another business using the same business model with just a different country code.
Liability And You As A Business Owner
When registered, the Ontario Sole Proprietorship combines the individual who operates the business to the risks and liabilities of the business operation. The liability concerns some individuals running a business with higher risks, such as construction or landscaping companies. The higher the liability risk is to the business's operation, the higher risk to the individual. Ultimately, the individual owner has personal responsibility for the business risk, damage and default. You may wish to speak to an insurance professional regarding gaining business insurance as part of your due diligence with registering your Master Business Licence.
Business Address and use of home address
Many home businesses start as Sole Proprietorships, and your home address is available to use for your company's business address. The address must be a physical location where you are located. The address for both the business owner and the business itself cannot have a postal box including in the address. If you live in a rural community, you can provide the lot and concession number to register your business.
Setting Up A Bank Account
Most financial institutions will require a secondary business bank account separating the business assets and obligations from those of the individual; however, when tax account season arrives, the Sole Proprietorship's revenues will be listed under the personal income tax return for the individual owner. The Master Business License in Ontario is valid for 5 years. The registration provides you with the ability to operate your business for several years before requiring renewal. When the 5 years approaches, you must complete a renewal of your business. If the company is not renewed, the Province of Ontario assumes the business is no longer active and allows the master business licence to expire.
Having a Sole Proprietorship gives you the freedom to make your mark. Still, it may provide limitations on the ways to obtain funding for your business unless you have cash, credit or the ability to leverage personal assets. Most funding available in Canada is limited to those entrepreneurs who have incorporated their businesses.
Tax Account
When you register a Sole Proprietorship or General Partnership in Ontario, the business's tax return is part of personal incomes. The business is taxed according to how much you as an individual earn. The personal income tax combines any income you receive from other sources such as an employer and the earned income from your Sole Proprietorship minus the business's costs.
Advantages Of Registering A Sole Proprietorship
Registering a Sole Proprietorship is the most common form of business operation beginnings in Ontario. The Sole Proprietorship far exceeds the number of General Partnerships (2 or more individuals) under the Business Act (Ontario) or Incorporations in Ontario.
The advantages are as follows:
Inexpensive to register
Uncomplicated setup
One tax return filing
Easy to change or cancel
Disadvantages Of Registering A Sole Proprietorship
Although inexpensive to register, the Master Business Licence does not provide several items that may be important to you as a business owner.
The disadvantages are as follows:
You are personally liable for the risks and responsibilities of the business
The business has no name protection so that others can use the same business name
Business taxes fall under the personal tax return, which can be higher than an incorporated tax structure
Limited ability to make changes to registration as the business grows
Limited access to venture capital or outside investment
Requires renewal of registration every 5 years
What Information Is Required To Register A Sole Proprietorship?
Name of business or legal name of the individual
Business activity
The legal name of the individual registrant
Business address
Individual owner address
If you are ready to complete the registration with us, here is the link to do so:
Get Your Sole Proprietorship Business Registration
Once the registration has been completed, you will receive a single-page document for Your Sole Proprietorship, which will list the details as provided above and the additional BIN number (Business Identifying Number) associated with your specific registration, the date of registration and expiry. The Province of Ontario does not remind you of your registration expiry date, so it is essential to maintain this information for renewal purposes. If you register with us, we will also keep the date for renewal and send you an email notice reminding you to renew.
What Does Ontario Business Central Offer Me To Complete My Registration?
Ontario Business Central has been assisting thousands of individuals each year to register their Sole Proprietorships in Ontario.
We offer the following to assist you with your Sole Proprietorship registration:
Review of your Sole Proprietorship registration to ensure compliance is met under the Business Names Act (Ontario) and with the Ministry of Consumer and Business Services
Online registration and completion of your Sole Proprietorship on a same-day basis
Both phone and email support throughout your registration process
Email communication when registration is up for renewal
Free copy available of completed registration at any time
Set up of HST, payroll and other tax accounts on your behalf once registered
domain search and registration
Can I Start A Business Part-time This Way?
Yes, many people maintain their full-time employment while starting a small business.
Registering a Sole Proprietorship gives you the opportunity at a low cost and dip your toe into starting your own business quickly and easily.
Do I Have To Apply For Hst?
Once your business earns $30,000.00 or more in a year between January 1st and December 31st, you must apply for HST. If the company does not reach the $30,000.00 within this timeframe, the HST is optional. You may find that suppliers who contract to you may want you to have HST even when you are below the threshold of $30,000.00.
If you wish for additional information on registering HST, you can go to the CRA website directly for further details at https://www.canada.ca/en/revenue-agency/services/tax/businesses/topics/gst-hst-businesses.html
Are There Other Provincial Or Municipal Accounts Required?
You can visit this terrific website and submit what type of business you will be operating within that will list any additional applications you may be required to submit to either the Provincial or Municipal governments in your jurisdiction. You can link to this website and review by going to   This is a handy tool when starting a business.
How Long Does It Take To Register, And What Are The Costs?
To register with Ontario Business Central, the base fee to register a Sole Proprietorship is $145.88. The registration is completed on a same-day basis Monday thru Friday before 3:00 pm EST.
Ontario Business Central has been assisting entrepreneurs to start their businesses since 1992, and we would be honoured to assist you in registering your business.
If you wish to register your Sole Proprietorship with us, here is the link to do so
Get Your Sole Proprietorship Business Registration
Should you have any questions, please feel free to reach out to our staff for additional information and assistance.
inquiries@ontariobusinesscentral.ca
Toll-Free: 1-800-280-1913
Local: 1-416-599-9009
Fax: 1-866-294-4363
Office Hours: 9:00am – 5:00pm
Monday – Friday E.S.T.
Ontario Business Central Inc. is not a law firm and cannot provide a legal opinion or advice. This information is to assist you in understanding the requirements of registration within the chosen jurisdiction. When you have legal or accounting questions, we recommended that you speak to a qualified professional.