Incorporating as a Chartered Professional Accountant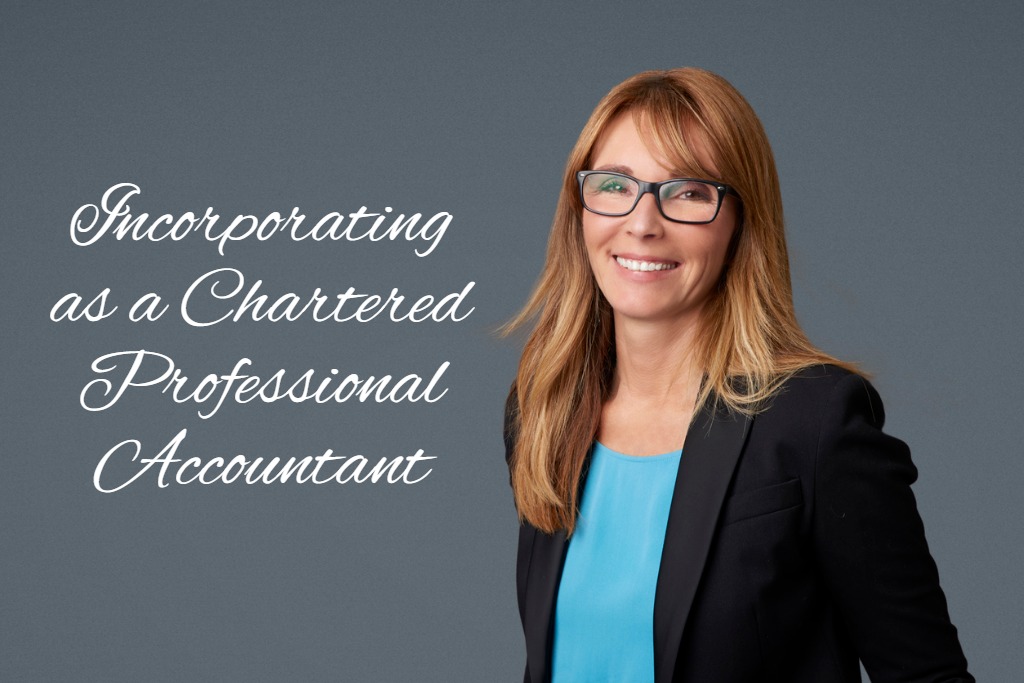 Professional Incorporations is a specific designation in Ontario allowing professionals to incorporate their practice including Chartered Professional Accountants. As part of the Incorporation process, CPA's are required to complete certain tasks by their governing body, Chartered Professional Accountants in Ontario, to obtain the required Certificate of Authorization.
What is required by my governing body?
As outlined by Chartered Professional Accountants of Ontario, professional corporations must adhere to the following:
Have a physical office location
All office locations conducting business must be registered
At least one shareholder must hold a current public accounting licence
Within the name of the corporation, the words 'Professional Corporation' or 'Société Professionnelle' must be included
Be registered in good standing and in accordance with regulations of the governing body
Make CPA Ontario aware of any significant changes to the corporation within 30 days of the change taking place
How long does the process take?
According to the guidelines provided, the process to obtain the Certificate of Authorization from CPA Ontario will take four to six weeks from the date of submission. Once it has been obtained, Ontario Business Central can then assist with completing the incorporation process on a same day basis.
Obtaining a Certificate of Authorization
Anyone engaging in the practice of public accounting in Ontario must register with CPA Ontario. However, those also looking to register a Professional Corporation must also obtain a Certificate of Authorization in order to operate.
Here's how to apply for this certification, after you've registered with CPA Ontario:
Login to My Portal
Select Firm Dashboard
Click on Select Firm and indicate the correct firm to obtain the certificate for
After selecting the appropriate firm, you can begin the new application process
What is a Firm Name Pre-Approval application?
When naming the corporation, if you are using your individual name as part of the business name, the business name does not require Pre-Approval of your governing body, however, it is recommended.
Ex: Jane Johnson CPA Professional Corporation
If you are using a business name which does not include your personal name, pre-approval of the business name is mandatory.
Ex: Red Leaf Accounting Professional Corporation
Once you have established the requirement including name approval where applicable required from CPA Ontario, you can begin the incorporation process with the help of Ontario Business Central. We can assist with processing your Professional Corporation on a same day basis.
As part of the service provided by Ontario Business Central, we automatically send you a draft of the prepared Articles of Incorporation prior to submission with the Province of Ontario to ensure you are completely satisfied with your specific incorporation. The Incorporation is never finalized with the Province until we receive your written confirmation to proceed.
We have had a number of previous clients who have provided the draft Incorporation to their governing body to ensure they are fully in compliance prior to submission with the Province of Ontario.
If you're looking for additional information regarding applications being submitted to CPA Ontario, you can contact the Registrar's Office directly at 1-800-387-0735, extension 4324 or at their website.
Ontario Business Central has been supporting entrepreneurs and new business owners to establish their Professional Corporations across Canada since 1992. We are here to assist you to make the process of completing an incorporation a seamless, easy process where we take you step by step through the incorporation process. If you would like to start your Corporation, click on the link below:
Start Your Professional Incorporation
Should you have any questions about incorporating your Professional Corporation, please feel free to reach out to our staff for additional information and assistance.
inquiries@ontariobusinesscentral.ca
Toll-Free: 1-800-280-1913
Local: 1-416-599-9009
Fax: 1-866-294-4363
Office Hours: 9:00am – 5:00pm
Monday – Friday E.S.T.
Ontario Business Central Inc. is not a law firm and cannot provide a legal opinion or advice. This information is to assist you in understanding the requirements of registration within the chosen jurisdiction. It is always recommended, when you have legal or accounting questions that you speak to a qualified professional.