How much does it cost to incorporate in Ontario?
Originally Published: Jan 25, 2018
In Ontario, you have two options to incorporate, either manual or electronic.
Manual filing
If you wish to file the Articles of Incorporation manually with the Province of Ontario, you can attend one of their government offices and pay the incorporation fee of $360.00.
When attending in person, the following documents are required
Two copies of the prepared Articles of Incorporation, both copies require original signatures from the incorporators of the corporation
Cover letter with name and contact information of individual filing the document
NUANS report if a named corporation is being completed
Electronic Filing
The Province has given third party processors the access to file the Articles of Incorporation for you electronically. The filing fee tends to be the same as with the Province at $360 however, the private processors charge in addition above this fee.
When using a processing company, the incorporation transaction is completed online and usually takes individuals only a few minutes to provide the details for their incorporations through a processors website. If a NUANS is required, you can request the NUANS report to be completed when providing the details of the incorporation. When you have provided all of the details, you will receive a receipt and the process begins of completed an electronically completed Articles of Incorporation will begin. There is a wide range of additional options available to clients who are electronically completing their incorporation and since a third party is completing the incorporation on your behalf, there is a fee for their services to assist you.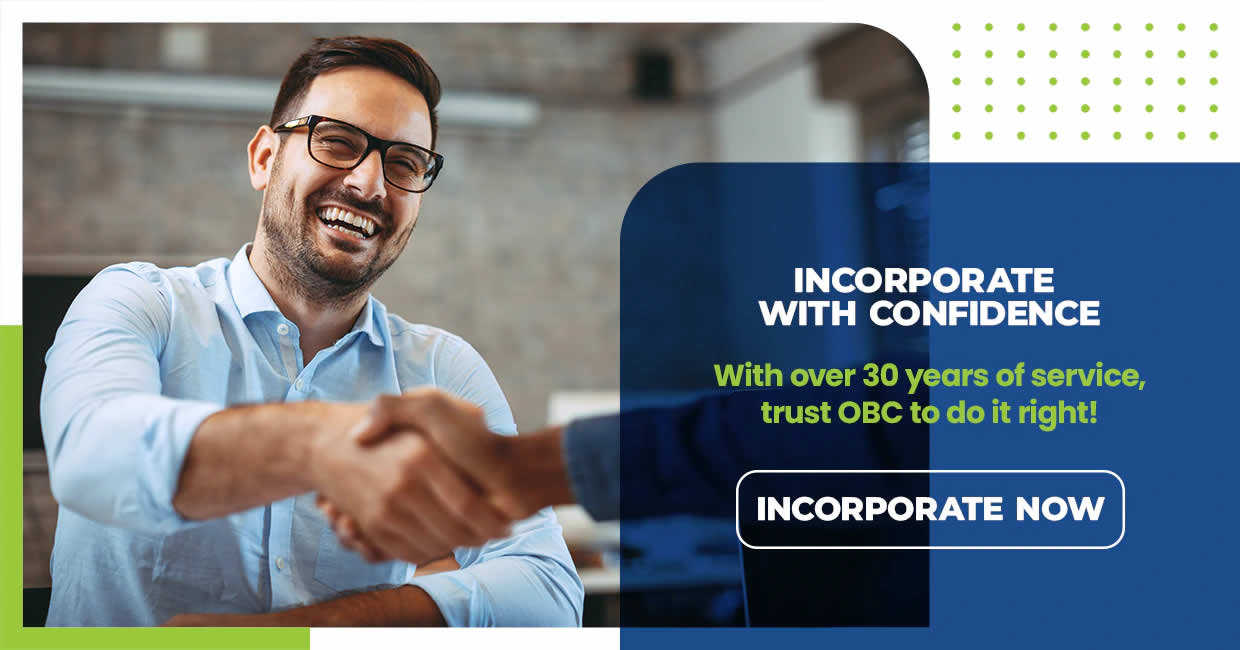 Which process is better?
A manual filing is usually completed in person at one of the Province of Ontario government offices. There are a number of them throughout Ontario. Service Ontario can assist to confirm which of their locations is closest to you if you wish to attend in person. When attending in person, the documents are reviewed by an examiner and if accepted processed and provided back to you on a same day basis.
There is the ability to mail the documents to the Province for review and acceptance however this process can take up to 9 weeks.
With the advancement of online services, the manual filing has become the less common option when incorporating a company. Once the documents have been submitted and filed with the Province of Ontario, you will receive one original paper copy of your incorporation. If you lose this copy, the original can never be replaced and only a copy can be retrieved from the Province days after the request. There is no digital copy of Articles of Incorporation available.
Electronic Articles of Incorporation have become the standard. When the Articles of Incorporation are filed electronically, you will receive a PDF file for the completed incorporation. This can easily be saved to your hard drive. The documents are available to print from your computer for use. If an additional copy is ever required and you have saved it to your hard drive, it's a simple reprint. There is no original document therefore each copy is the same as the next.
We at Ontario Business Central Inc. have been assisting people to establish their businesses since 1992. If you wish to file the Articles of Incorporation manually, we have staff available to go to the government office and file the documents on your behalf. If you wish to incorporate electronically, our website offers a quick and easy way to electronically file the incorporation.
Our staff at Ontario Business Central are available to assist you with any questions related to setting up your business in pursuit of your dreams.
If you would like us to assist you with completing the electronic incorporation, here is the link to incorporate in Ontario on our website.
Complete Articles of Incorporation for a new business in Ontario
If you have any questions, please feel free to reach out to our staff for any clarification or assistance you may require.
inquiries@ontariobusinesscentral.ca
Toll-Free: 1-800-280-1913
Local: 1-416-599-9009
Fax: 1-866-294-4363
Office Hours: 9:00am – 5:00pm
Monday – Friday E.S.T.
Ontario Business Central Inc. is not a law firm and cannot provide a legal opinion or advice. This information is to assist you in understanding the requirements of registration within the chosen jurisdiction. It is always recommended, when you have legal or accounting questions that you speak to a qualified professional.