Navigating Covid 19: Your Small Business Guide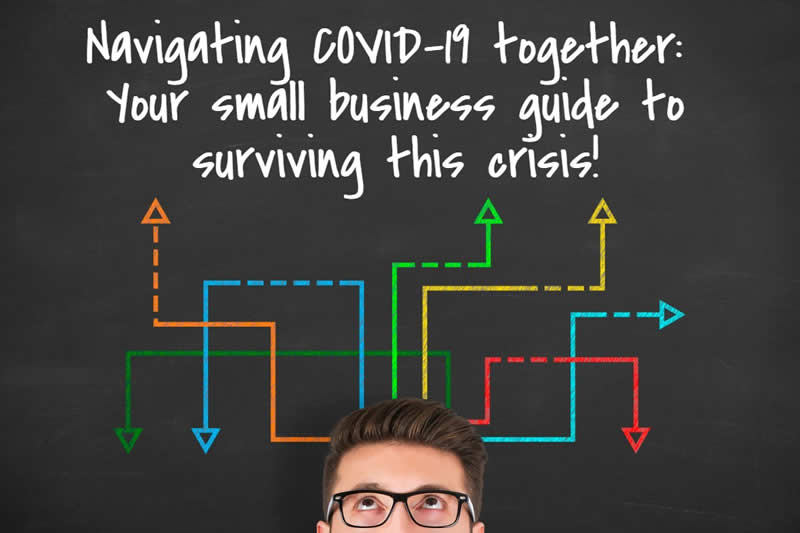 The world has rapidly changed over an incredibly short period of time, forcing individuals and businesses to quickly adapt to a new normal. As we all make adjustments and learn how to navigate through these unprecedented times, there are some things you can do right now for your business to protect your business, create your survival plan and help make passage through this uncharted territory an easier journey.
Adapting to Changes
Nearly all businesses are feeling some impact from the effects of Covid19 crisis, and are making adjustments to successfully manage. Being open minded to and willing to change how you do business can help to lessen the negative effects your business may be feeling, helping you survive the Covid19 crisis.
CPA Canada has also provided some ideas to create a business survival plan and run your business successfully, despite the current situation:
https://www.cpacanada.ca/en/news/canada/2020-03-26-covid-19-small-business-survival-tips
Changes to demand
Depending on what products and services your particular business is offering, you may be experiencing either an abrupt drop in demand or a quick increase in demand, or even disruptions to your supply chain. There are ways you can pivot your business and adapt to either of these changes, whether it's by changing the way you offer your products or by changing the products themselves.
We have seen many examples of companies responding to these changes in demand. Some companies, like Bauer, have retooled their facilities from producing hockey equipment to now make much needed face masks for medical professionals. It is this type of response to the shift in demand that can help companies become success stories, allowing them to continue to be highly productive and keep cash flow coming in, while also providing items that are desperately needed.
Toronto restaurants have developed their own plans to survive the Covid 19 crisis, by altering their business models and offering their own delivery service to provide you fabulous cuisine during this time. Not only does it help keep their businesses thriving, but it also means they can stop paying the steep fees that delivery apps sometimes have. Here are the Toronto restaurants that are implementing this into their business plans:
https://www.blogto.com/eat_drink/2020/04/restaurants-do-their-own-delivery-toronto/
The Federal Government is also offering businesses the opportunity to receive expedited licencing and access to manufacture products to help in the fight against Covid19, including medical equipment, hand sanitizer and disinfectants.
Communicating With Customers and Employees
In person services have become highly restricted, with only essential services being able to operate where in person contact and communication is permitted. Even these essential businesses, however, have had to make adjustments with how they are communicating with customers and staff may be working remotely.
With many individuals being hesitant to venture out of their homes, businesses have turned to online communication, including social media and email, as their main form of customer contact. Keeping customers updated on any changes to your operations can help instill confidence that your business is organized, competent and ready to help them.
Business owners have also had to quickly adapt to how their staff operates, as many individuals have shifted to working remotely from home. Video conferences using apps like Zoom and Skype have helped entrepreneurs manage their staff effectively. A task management platform, like Asana, can help keep track of the progress of projects and assign tasks to individuals.
Staffing Changes
Some businesses are having to adapt to staffing changes, including potentially laying off staff temporarily, due to decreases in business activity. There are emergency relief measures available to individuals whose job has been impacted by closures or reduced hours.
For those businesses who are working with reduced staff or are having staff work remotely, it's important to have a decided understanding for which individuals are responsible for certain tasks, and a clear plan for how operations are proceeding. Some staff may be required to take on new tasks that are outside of their typical duties. Keeping in continual communication with your staff can help you stay on top of problems or questions that may arise from the new changes. A communication tool, such as Google Hangouts can help staff communicate in real time, while at their remote work stations. In fact, Google has a suite of platforms that allow you and your staff to perform a number of tasks, including sharing documents through Google Drive, working in real time together with Google Docs and voice or video calling using Google Duo.
How You're Selling
With many businesses restricted in how they operate, changes may have to be made to how your products and services are getting into the hands of your customers. Depending on the products and services your business provides, you have different options for delivering to customers.
Curbside pickup or delivery have been a top choice for many companies, often waiving delivery fees or allowing customers to order online and schedule a pickup or delivery time.
For businesses that offer in person services, such as consulting services or personal training, providing these services via video conference is a great option that allows both yourself and your clients to communicate while remaining safely at home.
Accessing Financial Assistance
The Province of Ontario is offering $50 million in support through the Ontario Together Fund, available to qualifying businesses who are able to convert current operations to produce the supplies and equipment needed to help fulfill the demands of the health care sector.
Although not all submissions will be accepted, you can submit an online application to see if your business qualifies.
There are also a number of other support and loan programs being offered by the Provincial and Federal governments and available for qualifying businesses, to help them get through this uncertain and difficult time.
Planning For the Future
As we continue our efforts to flatten the curve and start reopening our businesses, this is the perfect opportunity to start planning for the future of your business. If your business adopted new practices, provided your products or services differently or manufactured entirely new products, take some time to evaluate whether these new changes positively impacted your business.
Will you go back to business as usual or will your business continue operating using the new measures put in place? Keep in mind that, even though you will soon be able to resume operations as usual, your customers may not yet be confident enough to get back to their old buying habits.
Set Up a Contingency Plan
Although no one wants to experience these events or anything similar again, it's important to have a plan in place for these types of unexpected and sudden events, in order to lessen the impact on your business. And, now that your business has already been through this experience once, you can take the lessons you have learned and create your plan for potential future events.
Financial Plan
When business activity is impacted, the most significant place it's felt is financially. This can happen almost immediately for some businesses, where expenses continue but income ceases. Having savings set aside allows you to keep your business running, even when sales are down. Saving for business expenses for between 6 months to 1 year will help ensure that your business can cover its financial obligations, such as rent and salaries.
Media Plan
Preparing your media plan ahead of time can help you avoid potential problems with messaging, and can help you quickly adapt to ever-changing situations. It's essential to have your messaging be appropriate to whatever situation is taking place, avoiding things that might be considered inappropriate or insensitive.
Taking cues from good social listening can help you figure out what information individuals are looking for and provide helpful information that reassures them in a time of crisis or uncertainty. The business survival plan should shift the focus from solely selling and promoting the business, to seeing what people are looking for and providing them with that, even if it does not bring in direct cash flow. Staying positive and providing reminders that no matter what the situation, things will get better, can go a long way in reassuring people. And, once the current situation passes, customers will remember your business for your reassurances and valuable information that was provided.
Be prepared to contribute frequently, while at the same time constantly reassessing and making adjustments based on how the situation changes. Setting up a strong social media and online presence now can help you seamlessly transition to online communication with customers, should times of crisis arise in the future.
Working Remotely Plan
Having systems in place, to allow staff to work remotely can help you quickly transition from your office setting to home, avoiding any delays in service to your customers. Find out what is required to get these systems set up, should you need them in the future, and keep this information updated, along with the appropriate individuals or businesses who will be able to get this done. The time frame to get these changes made should be built into your business survival plan, so you know it may take to get things up and running remotely.
It's also important to have a plan for which individuals will be responsible for each component of the business, and how communication between management and staff will happen.
Planning for the continued success of your business means preparing for the unexpected, and having business plans in place for adapting to different situations that may suddenly happen. Now that you and your business have experienced these unprecedented times, you can apply what you have learned to create these business continuity plans.
Ontario Business Central is committed to supporting business owners as they navigate their businesses through these difficult times. We hope this information has made it easier to understand how your business can survive uncertain times and how you can create a survival strategy to protect your business.
If you have any questions, please feel free to reach out and speak to one of our dedicated staff who are always eager to assist new business owners.
inquiries@ontariobusinesscentral.ca
Toll-Free: 1-800-280-1913
Local: 1-416-599-9009
Fax: 1-866-294-4363
Office Hours: 9:00am – 5:00pm
Monday – Friday E.S.T.
Ontario Business Central Inc. is not a law firm and cannot provide a legal opinion or advice. This information is to assist you in understanding the requirements of registration within the chosen jurisdiction. It is always recommended, when you have legal or accounting questions that you speak to a qualified professional.