Preparing a Social Media Plan For Your Business During a Crisis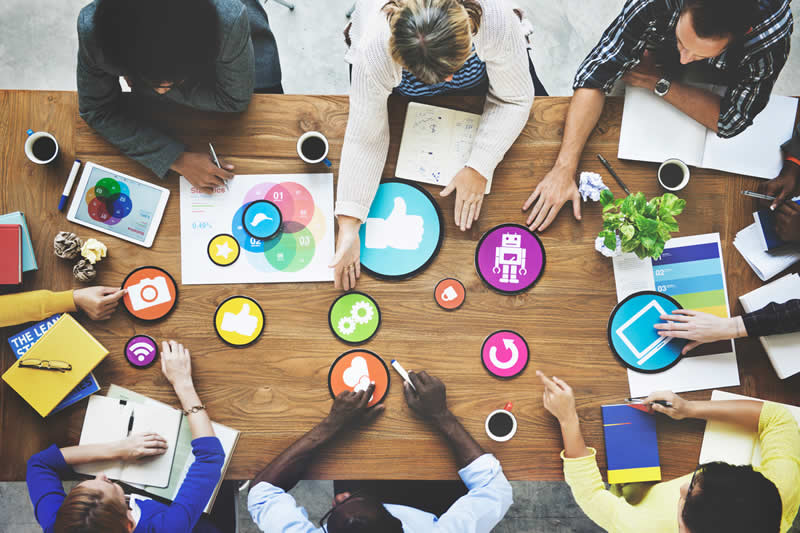 Nearly everyone is experiencing an increased level of self isolation during these times, while we seek to flatten the curve and contain the spread of Covid19. With this increase in social distancing and many individuals being asked to shelter in place at home, a resulting increase in screen time and online social engagement has clearly been seen. Both Facebook and Instagram have both experienced a 40% increase in usage, with engagement and usage of their live platforms doubling within the first week of stay-at-home restrictions.
How can social media be used in a crisis?
We all understand the important role social media has as a communication and marketing tool. But, during these times of confinement and solitude, the importance of social media as a communication tool has become even more evident. With more individuals spending an increasing amount of time scrolling through social media, now is not the time for your business to sit quietly by the sidelines and pause all social media activity. Ensure that you have a social media crisis management plan that helps your business stay active and involved online, while taking cues from social listening as to what content should be communicated.
Now that we have all experienced the difficulty of this situation, we can better prepare ourselves and our businesses for the future, so we can immediately put our plans into action. Here's how you can begin to create a social media management strategy for your business during a crisis:
This is not a marketing opportunity
Although your social content is typically used as a marketing tool, these are not typical times. The most important thing to keep in mind with anything you are posting, sharing or promoting is that this is not the time to try to capitalize and turn a bad circumstance into a marketing opportunity. Pause all social posts that are blatantly marketing to avoid any potential issues with messaging, unless you are able to clearly communicate why they are appropriate. When individuals are worried about their health, livelihood and future, they are not interested in being sold to, and they may, in fact, consider it to be in poor taste.
That is not to say you cannot promote your business at all, of course. Just bear in mind that this is not business as usual, and your communications plan and messaging should reflect that. Post often, but post quality content that is valuable to individuals – this can mean posting or sharing content that is not relevant to your business or sales in any way, such as tips for relieving stress or healthy recipes on a budget. This can help reinforce your business' core values and focus on customer care, by demonstrating that you are looking out for the best interest of your customers.
Be prepared to change your plan
It's great to have a social media crisis plan in place for how your business will continue to function throughout a crisis, but you also have to be ready to respond to changing situations and be prepared to change any plans. Situations can quickly change, and some content may need to be moved around and saved for later, depending on what is happening.
Launching a new product or trying to gain new customers when individuals may be financially strained may not be very well received, and may appear tone deaf and damaging to your brand. For example, Kim Kardashian recently received backlash over the launch of her new highly priced perfume while many Americans are losing their jobs and experiencing financial hardships. Engaging in continuous social listening can help you get a good idea of what people are feeling, what they want to see and what they feel is not appropriate for the moment.
Be upfront
While there is some backlash from those businesses that are still actively promoting their products amidst the Covid19 crisis, adjusting your messaging so that you're upfront and honest with your customers can have an immensely positive impact on your online reputation.
When reality star and business owner Kristin Cavallari continued promoting her jewellery line through Twitter thread, she saw an instant backlash from those who viewed it as inappropriate. She changed her messaging to address the employees that are financially dependent on her business succeeding, and was upfront that she will do what is required to keep them employed. This shift in messaging seemed to help in restoring her business' reputation, showing that her core values are focused on employee advocacy and well being.
Honesty is always appreciated, and is even more welcomed in times of uncertainty. Center your communications plan around being upfront and honest with customers about changes they may see to your business and why certain business decisions are being made.
See if you can help in some way
Many businesses have shifted their production to create much needed supplies, including personal protective equipment, disinfectants and more. Perhaps your business isn't able to do this – no need to worry, most businesses aren't able to switch production from baking pies to manufacturing ventilators. But, you may be able to help in some other way. Disney, for example, released Frozen 2 early on DisneyPlus, so families have something fun to look forward to while staying home. Likewise, while Great Wolf Lodge has temporarily shut its doors, their social media content is filled with fun ideas for activities families can do at home. This marketing strategy doesn't bring in any direct or immediate income for the business, however it does demonstrate a high level of customer care.
Think about ways your business may be able to enhance customer experience or assist individuals or other businesses through these tough times. If you operate a taxi service, for instance, offering free grocery delivery for seniors helps them stay safe at home. If your business is well versed in the online realm, perhaps giving advice to other businesses about running a successful business online can be done in the form of a blog post, free webinar or live stream. Remember that we are all in this together, and helping each other out can be highly beneficial to everyone.
Clear communication
In times of uncertainty, when individuals may be feeling stressed out, confused and overwhelmed, it's important to be clear and concise with your messaging. Communicate information and any changes to your business quickly and clearly with your customers and respond quickly to any questions or concerns they have.
This means if your contact information or business hours change, you're changing how deliveries are happening or any other change that may impact the customers, let them know before these changes happen. This can help avoid frustration from customers trying to call you at 8am, when your business hours have shifted to start at 9am.
Updating your Google My Business page is an important step in keeping customers informed. List any changes to your hours or, if necessary, mark your business as temporarily closed – Avoid setting your listing as 'Permanently closed'. Google also lets you add a posting to explain how your business has changed as a result of Covid19.
Customer care should be a priority now more than ever. Strengthening relationships with existing by prioritizing the customer experience – listen to them, acknowledge that this is a new normal and demonstrate that you are committed to being by their side through this crisis.
Optimal posting times have changed
With these times that are changing, what's also changing are the optimal send times for social media posts. Determining the optimal send times for scheduled posts can help maximize engagement with your customers and cut down on extra work or taking a chance on finding success with engaging.
Sprout Social took an in-depth look at the social analytics for the best times to post on social media. At the same time they were publishing this data, the shift towards sheltering at home was already happening. This meant that, almost overnight, social media habits changed, as many individuals began working from home or staying home from work, with possibly more time on their hands. Where typically, Sprout Social had listed 11am on Wednesdays and Fridays as the optimal times for social media engagement, new research showed that Covid19 had a fairly large impact on social media habits. More engagement was being observed throughout the week and during working hours.
After experiencing the impacts of Covid19, we have seen the importance of social media even more so as a highly effective tool for communication. Ensure you and your business are prepared for any unexpected situations that may happen by preparing your social media plan for times of crisis.
Ontario Business Central is committed to supporting business owners as they move through these difficult and unprecedented times. We hope this information has made it easier to understand how you can begin preparing your response plan so your business is ready for the unexpected.
If you have any questions, please feel free to reach out and speak to one of our dedicated staff who are always eager to assist new business owners.
inquiries@ontariobusinesscentral.ca
Toll-Free: 1-800-280-1913
Local: 1-416-599-9009
Fax: 1-866-294-4363
Office Hours: 9:00am – 5:00pm
Monday – Friday E.S.T.
Ontario Business Central Inc. is not a law firm and cannot provide a legal opinion or advice. This information is to assist you in understanding the requirements of registration within the chosen jurisdiction. It is always recommended, when you have legal or accounting questions that you speak to a qualified professional.