Teach Virtual Art Classes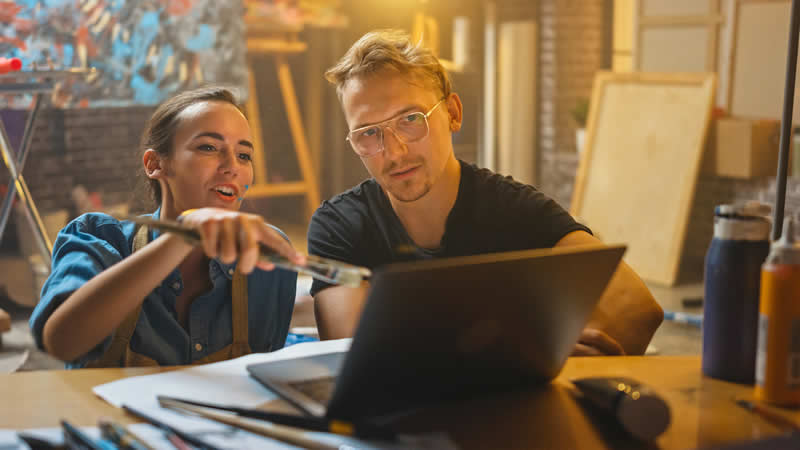 If pastels and paints course vibrantly through your veins, sharing your talents and love of art could lead to a colourfully successful business in teaching art. Picasso said, "Every child is an artist. The problem is how to remain an artist once we grow up." Well, one way to ensure this is to help keep those inner artists thriving by nurturing their talents with your knowledge. And, what better way to share your talents and reach as many artists than to teach your classes virtually.
Creating an online classroom for your art lessons gives you the platform for sharing with students from around the world. Here are just a few tips for virtual teaching:
Who should you teach online?
There is no real age limit to learning art! You can teach anyone from new moms connecting with and creating art with the help of their babies to retired folks looking to learn a new talent to help maintain mental and physical dexterity. Another great thing about art is that there are no wrong answers – every piece of art is a unique creation of its artist.
Depending on who you are teaching and their skill level, you can design specific online courses and assignments. Art comes in all forms, and can be taught for so many reasons. You can teach for honing skills and technique, or just for fun. No matter who you are teaching and the reason, art is a form of creative self-expression, so keep your online classroom fun and interactive to keep students engaged, and don't take things too seriously.
What are your virtual teaching options?
Covid-19 has catapulted all online experiences to new and more diverse experiences and opportunities. So many individuals have figured out innovative ways to adapt their businesses to an online environment. This has enabled online and remote learning to quickly become a new normal, encompassing virtual teaching in all forms, including art and artistic expressions. With virtual art classes, there are endless online platforms to bring students and art teachers together with a variety of structures to suit both you and the students looking for learning opportunities.
Outschool – If you are focusing your online teaching towards kids, Outschool's platform provides the perfect space to teach from home and create interactive lessons on any number of subjects, tailored for learners ages 3 through 18. Design your virtual classrooms as one-time meetups or ongoing classes that meet multiple times. You set the fees, class sizes for each class, as well as the recommended age for online learners, and earn 70% of the revenues generated from your courses.
Zoom – Over the past year, Zoom has become a household name, with businesses, classes and social interactions gathering together in this online environment to meet, learn and connect. It has quickly become the go-to online platform when in-person meeting is difficult or not possible. Zoom can be used to teach both children and adults, either as a one-time online class or recurring scheduled virtual classes. And, with the free plan, you can teach up to 100 individuals at once for up to 40 minutes at a time.
Skill Share – If you are looking to teach online at a more intermediate level to experienced students, Skill Share is a great option. You can offer a number of creative online courses, from photography, animation, design and writing or tips for launching your own creative career. Monthly challenges keep you motivated as an online teacher and help you create and build your following. There is no cost for publishing online courses, and you will earn money based on how many minutes of your classes are watched.
These are just several of the available online teaching options available. Depending on who your online learners will be and how your teaching strategies are structured, you may find one virtual classroom platform more advantageous than another.
Enhancing the online experience
Teaching and learning online is a completely different experience than being in person, interacting face to face with one another. In some ways, the online experience has a number of benefits, including removing the barriers of distance and, in many cases, the high tuition costs associated with in-person learning. There are, however, also some drawbacks inherently involved with online learning, including challenges around communicating and receiving information properly.
Overcoming or minimizing these challenges in this new learning environment is entirely possible, with a little bit of planning and organization. The easiest way to ensure your students have a great learning experience is to equip them with the information and tools they will need. If there is anything they will need to have on hand, send this list early so they have enough time to gather these items, or purchase them if required. Even if it is something as simple as a bowl of water to clean brushes or a rag to clean up, having anything that may be needed will save valuable teaching time and result in a smoother lesson with less interruptions.
If there is information that students will need to know ahead of time, or anything that may be helpful in enhancing their online learning experience, make this available to students to better prepare them. YouTube videos are a great way to demonstrate those things that are easier to show than put into words. You can either create these YouTube videos yourself, or use existing content if there are videos that would be helpful. Creating exclusive social media groups for your online students is also a great way to create student engagement, share ideas and resources and elevate communication. If there are any other helpful resources, provide links to these for students to review ahead of time.
Also, consider sending reminders to online students as your scheduled class date approaches, for those who have not prepared. Most people have a tendency to put things off until the last minute, so sending gentle reminders that the class date is drawing near and to get ready can help students avoid ill-preparedness and disappointment.
Good ideas can take time to grow, and sometimes creativity needs to simmer before it can fully develop. Unless part of the online lesson and experience is to create and react spontaneously, having students brainstorm and develop their conceptualizations ahead of time can be greatly beneficial in the creative process and enhancing the online learning experience.
What else can be adapted?
You have already adapted your classes to an online format, but there may be other ways that you can adapt what is being taught. Consider what else can or may need to be adapted to help your students thrive creatively in this different learning platform and in these ever-changing times.
Supplies: Depending on where your online students are located, obtaining different supplies may be difficult. If any supplies can be substituted or optional, leave that choice open for your students. And, if there's the opportunity to use things they may already have around the house, that makes collecting supplies that much easier.
Topics: Art is all about expressing emotions, thoughts and feelings through creative outputs. Keeping topics relevant to what students may be feeling and experiencing can help elevate the level of engagement and produce more thoughtful and personal pieces.
Deadlines: Offering classes on an online platform makes it possible to be more flexible with timelines and deadlines. Considering the new stresses, schedules and obligations that students may have, it may be worth taking into account when determining your teaching strategies, establishing deadlines and how flexible these dates can be.
Group discussions: Because each online learner is working separately, in their own space, finding ways to create effective ways to communicate is essential. Whether it is through social media or another platform, find an online environment where both teachers and students can engage, share thoughts, and create a sense of community that would be found in a traditional classroom.
Registering your business
Getting your business started requires you to either register or incorporate your business. Deciding whether to register as a small business or to incorporate is something to consider before you proceed. There are different advantages to each type of business structure, but it is recommended to speak with your accountant or lawyer for advice on which is best for you.
Ontario Business Central can get either your small business registration or corporation up and running today. Whether you register or incorporate is up to you to decide, but here are a few benefits of each:
Advantages of small business registration
Inexpensive and fast to set up
Operate and advertise the business name you register
Open a business bank account
Available for non-residents to register
Name protection for the business name
Limited personal liability
Separate corporate tax filings
Does not require renewal
Easy to make changes or sell the business
When you decide whether registering or incorporating is better for you, we can help with either in any of the following jurisdictions:
REGISTER A BUSINESS
INCORPORATE A BUSINESS
BRITISH COLUMBIA INCORPORATION
Ontario Business Central is here to help you through every step of the process. If we can be of assistance, please feel free to reach out to our staff for any clarification or questions you may have.
inquiries@ontariobusinesscentral.ca
Toll-Free: 1-800-280-1913
Local: 1-416-599-9009
Fax: 1-866-294-4363
Office Hours: 9:00am – 5:00pm
Monday – Friday E.S.T.
Ontario Business Central Inc. is not a law firm and cannot provide a legal opinion or advice. This information is to assist you in understanding the requirements of registration within the chosen jurisdiction. It is always recommended, when you have legal or accounting questions that you speak to a qualified professional.