The Ultimate Guide to Starting a Profitable YouTube Business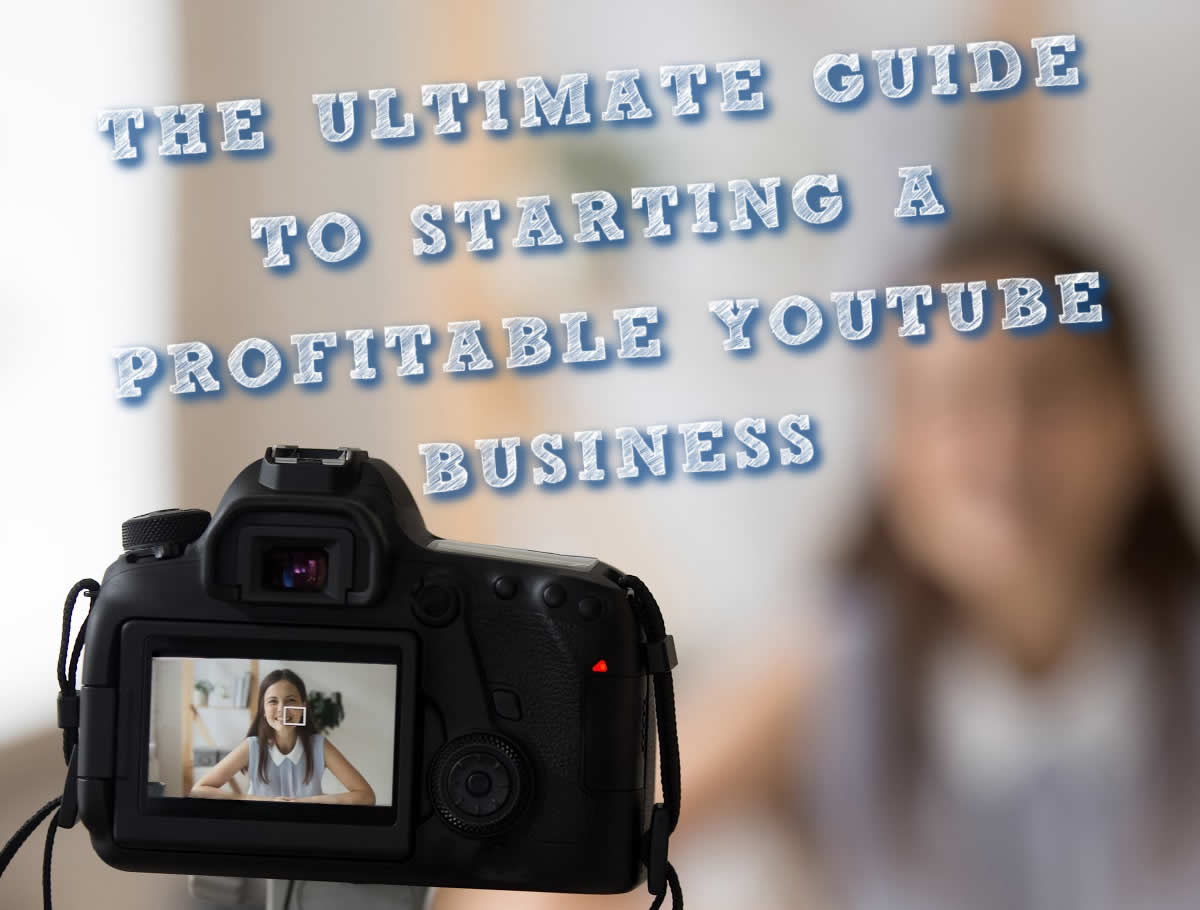 Introduction
YouTube is home to 37 million channels that generated close to $15 billion in ad revenue for parent company Alphabet in 2019. If you consider YouTube pays channel owners 68% of AdSense revenues, YouTubers potentially earned $10.2 billion the same year. If we take that calculation slightly further, that works out to just under $300 PER channel that year.
Now, of course, not every YouTube channel earns ad income, leave alone $300 per year, but many take home more, including a few that bring home the lion's share.
In Canada, three popular YouTube channels make over $100,000 per month.
Linus Tech Tips: 19M subscribers, $19m/year
Unbox Therapy: 17.8M subscribers, $6m/year
Watch Mojo: 23.4M subscribers, $12m/year
While it may be easy to dismiss these channels as megastar channels, the reality is they each started with no subscribers. Zero subscribers and zero revenue. That means anyone starting a YouTube account today has an equal chance of building a successful channel as these mega channels had when they started.
This guide takes you through all the steps you need to take to start your own popular AND profitable YouTube channel.
Part 1: YouTube Basics, Stats and Trends
YouTube Basics
Before delving into how to make money with YouTube, here first are the basics of YouTube.
What is YouTube?
YouTube is the largest video publishing platform on the planet. In 2019, YouTube reached 2 billion users in over 100 countries. In the same year, viewers watched over a billion hours of video per day.
Why YouTube?
Why should you consider YouTube for making money? To give you some perspective, here is a quick comparison of making money from YouTube versus a blog:
| | |
| --- | --- |
| YouTube | Blog |
| Leverages the most popular content medium on the Internet – video | Is primarily text-based, with most people preferring video over text |
| Gets billions of visitors each day | Relies on your effort to drive traffic to your website |
| Has follow and share tools that can make your channel go viral | Has limited viral capabilities due to technical restrictions |
In addition to these advantages over making money from a blog, here are more astonishing statistics about YouTube.
YouTube Statistics
General Statistics
Highest Paid YouTubers in the World
| | | | | |
| --- | --- | --- | --- | --- |
| Channel Owner | Main Channel | Total Subs (millions) | Total Views (billions) | Earnings ($ millions/year) |
| Markiplier (Mark Fischbach) | Markiplier | 27.8 | 3.1 | 25.7 |
| Rhett and Link | Good Mythical Morning | 41.8 | 1.9 | 26.3 |
| Dude Perfect | Dude Perfect | 57.5 | 2.77 | 30.3 |
| Mr. Beast (Jimmy Donaldson) | Mr. Beast | 47.8 | 3 | 31.6 |
| Ryan Naji | Ryan's World | 41.7 | 12.2 | 38.9 |
From these statistics, it is apparent that YouTube is a perfect place to invest your time and effort to make money.
Further making a case for YouTube are these YouTube trends.
YouTube Trends
YouTube continues to grow: Close to six million new channels are added to YouTube each year. (Tubics)
Profitable channels are increasing: Channels earning five to six figures per year will increase by 50% and 40%, respectively. (YouTube)
Channel subscribers are increasing: Channels with over a million subscribers will increase by 65% (Hootsuite)
What Do all these Stats Mean?
The path to YouTube success is undoubtedly paved with promising statistics. With so many people visiting YouTube and so many successful channels in every conceivable niche, almost any type of channel can find a sizeable audience and achieve success.
Barriers to YouTube Success
Achieving YouTube success is not without its challenges. Like any business, you will face barriers to success, and on YouTube, these will include:
Copyright Strike
A copyright strike is an intellectual property management system that YouTube uses to resolve copyright infringement complaints. As a YouTuber, publishing copyrighted materials (video, audio, or images) can lead to a copyright strike notice. If you get three strikes, YouTube will delete your channel and all videos and bar you from creating another channel.
Competition
Competition on YouTube can be stiff, especially in the more popular and lucrative niches like fitness, health, fashion, and beauty. Without a clear strategy and a way to differentiate your channel and content, you might struggle to attract an audience who may already find what you offer on competitor channels.
Inadequate Knowledge
Most successful YouTubers have mastered how YouTube works. If you do not take the time to do the same, you may find it challenging to navigate the platform. For example, keeping up with YouTube trends, especially what is working for other channels, is necessary to keep your channel relevant and fresh. As such, you will need to stay abreast of all that is happening on YouTube if you wish to remain profitable.
Building an Audience
A YouTube channel with no audience makes no money. The inability to build and cultivate a loyal following is one of the main reasons YouTube channels fail. Mastering this art and science is the only way your channel will succeed.
Part 2: Monetizing a YouTube Channel
If you are ready to make money on YouTube, you need to monetize your channel so whatever content you publish earns you an income. While there are several ways that you can do this, picking the right mix of monetization strategies plus those that match your content is the best way to ensure your channel makes money.
This section covers nine ways to monetize your YouTube channel and, later, how to pick a monetization strategy that will work for you.
9 Ways to Monetize Your YouTube Channel
#1. Join the YouTube Partner Program
The YouTube Partner Program or YPP is a revenue share program that pays channel owners a portion of AdSense advertising revenues from ad views and clicks generated from within the channel. For eligibility, your channel needs at least 1000 subscribers and 4,000 watch hours within the past year. Once you are eligible, you can enroll in the program and start earning money from ads shown on your videos.
#2. Consider YouTube Premium
Initially launched in 2014, YouTube Premium pays publishers for videos watched within the premium program. Since subscribers pay to access an ad-free experience on YouTube Premium, YouTube shares these revenues with channels whose videos paying subscribers watch. As a channel owner, you still earn ad revenues from the same videos, making YouTube Premium an additional revenue stream for your channel.
#3. Become an Affiliate Marketer
If you have ever watched a product review on YouTube and clicked a link in the description to purchase, you may have participated in an affiliate sale. With affiliate marketing, you can promote other people's products and services for a small commission after a sale. Affiliate marketing is an excellent option because the list of products and services you can review is practically endless, giving you a wide range of options to choose from.
#4. Sell Your Products or Services
Another way to monetize your YouTube channel is to sell your products and services like courses, crafts, eBooks and novels. Some YouTubers even use their channel to drive business to a physical store. If you have products or can create some, you can easily publish content that promotes your creations, prompting viewers to purchase, either on your website or a marketplace like Amazon or Etsy.
#5. Accept Video Sponsorships
YouTube sponsorships can be a lucrative revenue stream, especially in high-traffic niches like food, health, fitness, and fashion. Once you build up your audience, you can attract businesses who want to reach your audience through a sponsored video. In such an arrangement, a business pays you to create a product placement video (like a review), which you publish and promote to your fans.
#6. Crowdfund Your Content
If you plan to publish creative content like short story-like videos or perhaps an ongoing animated series, you might consider crowdfunding your channel. Platforms like Indiegogo and Kickstarter offer access to people seeking something new and fresh and are willing to pay for it upfront. Although crowdfunding may not give you a steady income, it can give you an initial boost to get started.
#7. Switch On "Fan Funding"
Another form of crowdfunding is fan funding. With this type of monetization, you request fans to chip in to support your channel and efforts. Since the contributions are voluntary, you may not have much control over how much people pay. However, platforms like Patreon allow you to create contribution tiers, where fans can chip in a voluntary fixed amount every month.
#8. License Your Content
Media outlets and other YouTube channels are always on the lookout for high-quality video content. If your content is high-quality and meets their requirements, you can build a business out of creating and licensing content to other publishers. For example, the website Jukin Media allows anyone to submit a video, which might find its way to mainstream media through the company's licensing program.
#9. Become an Influencer
Brands today are open to working with influencers who command the loyalty of legions of fans. If you can create a large enough and loyal enough fan base, you can work with brands as an influencer. Depending on the niche you pick, you can become a preferred affiliate or even a brand ambassador. With influencer marketing on the rise, getting in ahead of this megatrend can be very lucrative.
How to Pick the Right Monetization Strategy for Your Channel
Now that you know how you can monetize your YouTube channel, which one should you pick? Also, should you only pick one or combine several?
Here are some factors to consider:
Niche: Some niches like fitness and entertainment do very well with ad monetization because people tend to watch such videos several times.
Publishing frequency: If you plan to publish several videos a day, ads may be a good choice. However, if your publishing schedule is once a week or less, you might consider more high-impact monetization options like sponsorships and affiliate marketing.
Audience: Young audiences (not children) are better inclined to ad monetization, while older demographics might respond better to fan funding or YouTube Premium.
Subscriber base: If you have less than 1000 subscribers, you cannot qualify for the YouTube Partner Program. However, other methods like crowdfunding and content licensing depend more on quality than popularity.
While this list is not exhaustive, it gives you a general idea of how each monetization strategy works and why each might work/not work in specific scenarios.
Should you combine strategies?
Yes! Most successful YouTubers combine at least three monetization methods to maximize their earnings. For example, Linus Tech Tips earns from a mix of AdSense income and sponsorships, while Mr. Beast makes most of his revenue from in-video ads (independent from YouTube's ad platform) and AdSense. Depending on your business model, pick a combination that generates the highest returns at a consistent rate.
Part 3: Launch Your YouTube Business
Launching a YouTube business is an exciting journey and one you probably cannot wait to begin. However, before delving into the nuts and bolts of how to get started, take a moment to ask yourself this important question: Is a YouTube business right for me?
To guide you on this internal quest, here are three considerations:
Passion
What are you passionate about? What can you talk about for hours on end without getting bored? As an example, let's say it's luxury cars, miniature cars, or electric cars – whatever it is, you need to be passionate enough about it to talk about it, on camera, for months or even years to come.
Knowledge
Most of the people watching your channel will be already fairly knowledgeable in whatever niche you pick. If you cannot exceed their knowledge, you might find it hard to keep them interested. Choosing a niche that you have in-depth knowledge about, either from your job, training, background, or hobby, is the best indication that your channel may succeed.
Demand
Demand is the final piece of the puzzle. You might be passionate and knowledgeable about it, but is there demand for it? One way to gauge this is to visit several competitor channels. Do they have many subscribers? Are they at least moderately successful? If yes, then you know that there is a market for your content. If not, you might have stumbled onto a niche with an audience too tiny to find.
Groundwork
You have the passion and knowledge, and there's demand. The next step involves laying the foundation for your YouTube business.
The following two factors are the most critical step in the entire process because they will point you in the right direction, ensuring you do not waste your time and effort.
Define Your Niche
If you analyzed your passion and knowledge, you probably have a good idea of which niche to pursue. However, if you want to maximize your chances of making money on YouTube, you will need to position your channel within a profitable niche.
For example, these are currently the most profitable niches on YouTube:
Beauty/Fashion
Gaming
Food/Cooking
Fitness/Health
Unboxing/Reviews
Travel
Pets/Animals
Humour
Entertainment
Vlogs
If you are passionate about cars (not on the list), you might have a better chance at success by positioning it within the entertainment, humour, travel, or vlog niches. By embedding your channel within a profitable niche, you get to work on what you are passionate about while maximizing your revenue potential.
Select Your Audience
With your niche picked, you now need to analyze your potential audience and select the segment you want to focus on. Going back to the car example, focusing on everyone interested in cars would make for an ineffective strategy (there are too many).
Instead, you might pick an audience that cares about classic Italian cars or retro models of famous cars. Moreover, you can fine-tune this audience further demographically and geographically.
Besides focusing your efforts, defining an audience will help clarify your vision, so you are creating content for a particular audience and not just anyone who happens to stop by your channel.
Write a Business Plan
With a niche and audience picked, you now need to create a cohesive action plan on how you will launch your YouTube business.
A business plan is a useful tool in this regard, and it has four sections:
Overview
Market Analysis
Sales and Marketing Plan
Key Objectives and Success Metrics
Overview
The overview is a one-paragraph section that briefly outlines the business's vision, mission, and concept.
Vision: Define the long-term outcome you want to achieve with the business.
Example: A channel with over 100,000 subscribers earning over $5,000 per month.
Mission: Identify the overall purpose of the channel.
Example: Educate my audience on the most sustainable car brands in the world.
Concept: Identify the original idea behind the business.
Example: An internet business that generates passive income.
Market Analysis
The market analysis section covers four fundamental areas:
Target Market: What is your target audience? Who is your ideal audience persona if you reduce your audience to just one individual?
Demand/ Need: Is there a need for your content? Can you find some signs of demand for the content you want to publish?
Competitors: Are there any competitors? If so, how successful are they and why? If not, why are there no competitors (there might be no market)?
Competitive Advantage: Assuming you are entering a niche with competitors (and 99% of the time you will), how will you differentiate your channel? How will you stand out from the competition?
Sales and Marketing Plan
Like any business, you will need to market your YouTube business and generate sales (ad impressions, sponsorships, product sales).
In this section, address:
Marketing Channels: How will you market your YouTube channel? How can you leverage other platforms like Instagram, Facebook, and Snapchat to promote your channel?
Marketing Resources: While marketing your channel, you might need video editing, image creation, ad creation, and YouTube SEO.
Cost to Market: Do you have a marketing budget? Can you afford YouTube ads to drive more viewers to your channel?
Sales Pricing Strategy: What will you charge for what you sell? If a business approached you for sponsorship, do you have a rate card to guide the transaction?
Monetization Strategy: How will you make money? What YouTube monetization strategies will you use and when?
Key Objectives and Success Metrics
Finally, this section asks a simple question: how will you know you are succeeding? Defining this will require first setting milestones and timelines for key objectives.
Key objective example:
Milestone 01: Publish ten videos
Timeline: Three months
From this key objective metric, you then set a success metric tied to it.
For example:
Success Metric 01: Get 100 views per video
Timeline: Within three months of publishing.
You can tie other key objectives and success metrics to money made, number of subscribers, and overall views.
For more information on starting a business plan, review our blog – Writing a business plan for success.
Launch your YouTube Channel
If you have never created a YouTube channel before, here's a twelve-step process to get you started:
Create a YouTube Brand Account

You will need a Google account for this step. While logged in, visit the YouTube website, and go to the YouTube Channel Switcher page. Click on "Create a new channel." On the next page, pick a channel name and click "Create." You now have a new YouTube brand channel.
Add Channel Art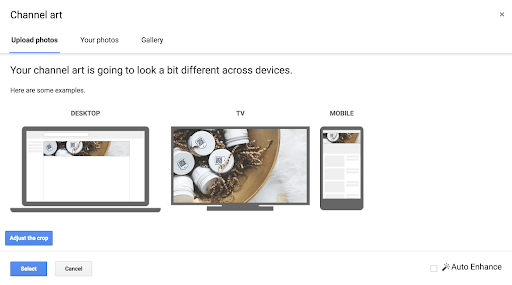 Channel art includes all the branding details that personalize your new channel. You will need to upload a channel icon and add a banner image (what YouTube calls channel art). You will also see how the channel art looks on different screen sizes and adjust it accordingly.
Complete Your Profile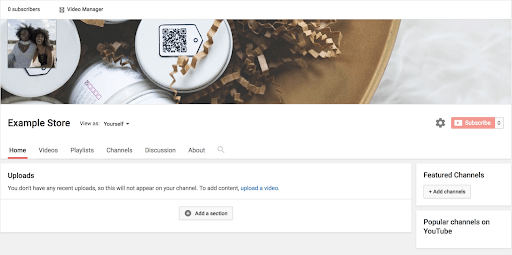 To complete your profile, you will first need to enable all the customization options. Click on the gear icon next to the subscribe button. In the options, enable "Customize the layout of your channel." This action will unlock additional tabs like Playlists and About, allowing you to customize and complete your profile entirely.
Create a Content Plan
Your content plan should integrate all the information collected from the previous steps, including the niche, audience, type of content and publishing frequency. At this stage, you should also start thinking about how you will produce, edit, and publish videos in case you need to hire some extra help.
Add a Channel Trailer


A channel trailer gives an inviting and exciting synopsis of the channel. To add a channel trailer, upload the video, select customize channel, click on the "Home" tab, then the "For new visitors" tab, click "Edit," and then select "Change trailer."
Upload Your Video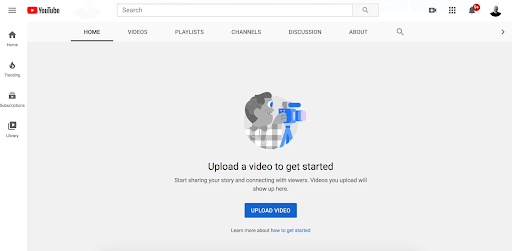 Uploading a video is the moment of truth. It means you have reached the point of no return and are ready to go live. Click on the "Upload Video" button to upload your video.
Optimize Your Videos for YouTube Search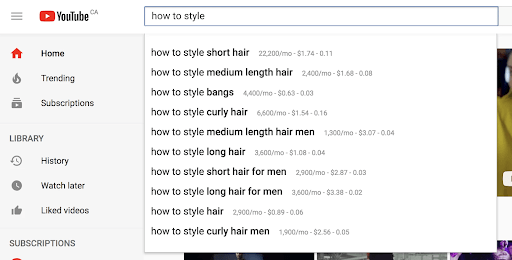 YouTube search engine optimization (YouTube SEO) is an essential step in making your videos findable. Some SEO factors to consider are keywords, encouraging comments on your videos, and experimenting with video length and associated metadata like the title, keywords, file name, and tags.
Provide a Consistent Experience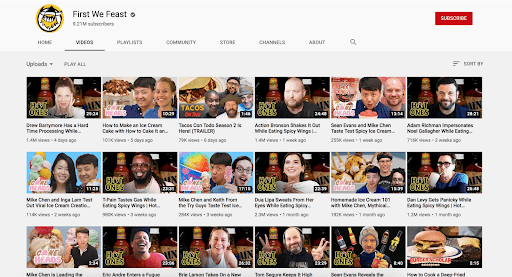 A consistent (branding) experience sets apart professional channels from amateur channels. To stand out, make sure all your thumbnails and videos follow the same theme. For example, make sure all your videos start and end the same way, so viewers come to expect a consistent experience.
Promote Your YouTube Channel
As the second most visited website on the planet, there is no shortage of potential viewers. However, you need to promote your channel to be found. Try promoting your channel on Facebook and Instagram, sharing it on your WhatsApp status and any other place people might take notice. You can also try collaborating with other YouTubers for mutual promotion.
Do not Ignore Your Community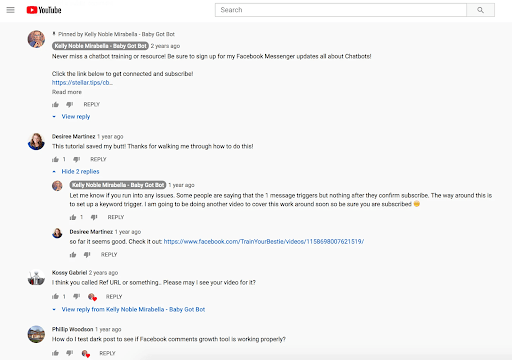 Engagement is not just a ranking factor on YouTube, but it also tells your viewers you care about their opinions. A simple way to do this to like or "heart" valuable comments so other users can find them easily. You can also reply to comments to acknowledge your audiences' participation.
Consider Running YouTube Ads
If you want your channel to grow faster, you might consider running YouTube ads. Like other internet ads, you will need to define your target market, search preferences, and geographical location. Depending on your budget, you can quickly gain hundreds of subscribers in a matter of weeks.
Track Results and Optimize Your Channel
YouTube Analytics gives you several vital metrics showing how your channel is performing. These metrics include traffic sources, watch time, subscriber rate, number of comments and audience retention rates. Make sure to compare these results to your success metrics to know what steps you can take to optimize your channel.
YouTube Mistakes to Avoid
As a new YouTuber, you might make mistakes that undermine your efforts.
Here are ten YouTube mistakes to avoid:
Publishing off-topic videos
Publishing infrequently or inconsistently
Not asking your viewers to subscribe or comment
Uploading unedited video
Deleting content
Publishing poor audio quality content
Letting your channel go dormant
Copying content from other channels
Publishing copyrighted material
Using Blackhat tactics (like sub4sub) to grow your channel
Although you will make mistakes initially, avoiding these ten will give you a significant head start, besides helping you avoid the disadvantages they bring.
Part 4: Make Your YouTube Business Official
After a few months of publishing videos, growing your channel, and hopefully making some money, you should consider making your YouTube business official. Taking this step gives you additional tools to grow it further, like getting access to credit, a professional business name, and a business bank account.
To take this step, follow these steps:
#1. Name your business
Naming your business/YouTube channel can have a significant impact on your brand. Your business name is the first impression your audience sees. It's important to find your brand name before you establish your YouTube channel. Although if you named your channel when you were setting it up, you can pick a different business name and retain the YouTube name as a brand name. If you're looking at establishing multiple YouTube channels, incorporation gives you the ability to operate multiple business names under the same umbrella. Doing this gives you greater flexibility if you want to start other YouTube channels in the future or change your YouTube name.
#2. Register a business online
Next, register your business online, so your business becomes a legal entity. You'll need to determine the business structure, either small business or corporation. You can read more about the differences between registering a business and incorporating.
In a nutshell, while it is simpler to register a small business, incorporation (a corporation) offers you more legal options, such as:
Limited personal liability: The business is a separate legal entity from you, separating you from the business's risks.
Business name protection: No other business can incorporate the exact same name in the same jurisdiction
Tax benefits: Corporations have the lowest tax rates.
Investments: As a separate legal entity, the corporation can invest in real estate, stocks, and bonds.
Flexibility: You can change the business structure including the business name, adding or removing partners, or adding a secondary business name.
No renewal: Once incorporated , your business is permanently open for business.
If you are not sure whether to pick a small business or a corporation, Ontario Business Central can help. Call us toll-free at 1-800-280-1913 and we will help you pick the right business structure for your YouTube business and help you register it.
We offer business registration services in the following provinces:
REGISTER A BUSINESS
INCORPORATE A BUSINESS
BRITISH COLUMBIA INCORPORATION
#3. Secure your domain
With your business registered, go ahead and search for a domain name with your chosen name. In case it is unavailable, consider using other extensions apart from .com. In Canada, a .ca domain identifies the business in your audiences' eyes, helping them relate better to your brand. Explore our article on the 9 must ask questions before registering your domain name.
#4. Open a business bank account
A business bank account helps you separate your personal assets from your business assets, which is useful for tax and accounting purposes. Using your business registration or Articles of Incorporation documents, approach any local bank and request to open a business bank account. You can also apply for a business credit card to use for your business expenses.
Summary
If you have read this far, congratulations! You now have a solid foundation on which to build your YouTube business and start making money on YouTube.
As a parting shot, it is important to note that it might take time before your YouTube business makes you enough money to support you entirely. As such, it is advisable to build your YouTube channel alongside your primary source of income.
As your channel grows, you might reach a point where it becomes your full-time job. Until then, the most important thing is to enjoy the process, savour the rewards and know that your efforts have touched at least a handful of lives.
If we can be of assistance, please feel free to reach out to our staff for any clarification or assistance you may require.
inquiries@ontariobusinesscentral.ca
Toll-Free: 1-800-280-1913
Local: 1-416-599-9009
Fax: 1-866-294-4363
Office Hours: 9:00am – 5:00pm
Monday – Friday E.S.T.
Ontario Business Central Inc. is not a law firm and cannot provide a legal opinion or advice. This information is to assist you in understanding the requirements of registration within the chosen jurisdiction. It is always recommended, when you have legal or accounting questions that you speak to a qualified professional.