How to Bring Your Existing Corporation From Another Province Into Ontario
Originally Posted: Oct 5, 2016
If you have an existing corporation in any Province or Territory in Canada and you wish to register your corporation in Ontario, the process is very simple and inexpensive.
The only time you are required to register your corporation in a different Province other than your home jurisdiction is when you are setting up a physical address for the business within a secondary Province. People often ask if they are required to set up their businesses in another Province or Territory when they have clients in that jurisdiction. As an incorporated business, you can have clients anywhere in the world. The only time you need to set up your corporation in another Province or Territory is when your business has a physical location in a different Province or Territory.
What is required for registration in Ontario?
An existing corporation that is within Canada but outside of Ontario
Copy of your Articles of Incorporation from your home jurisdiction (where your corporation was registered)
A filing of the Initial Notice (Form 2) in Ontario which allows you to obtain an Ontario corporate number for your existing Corporation within Ontario.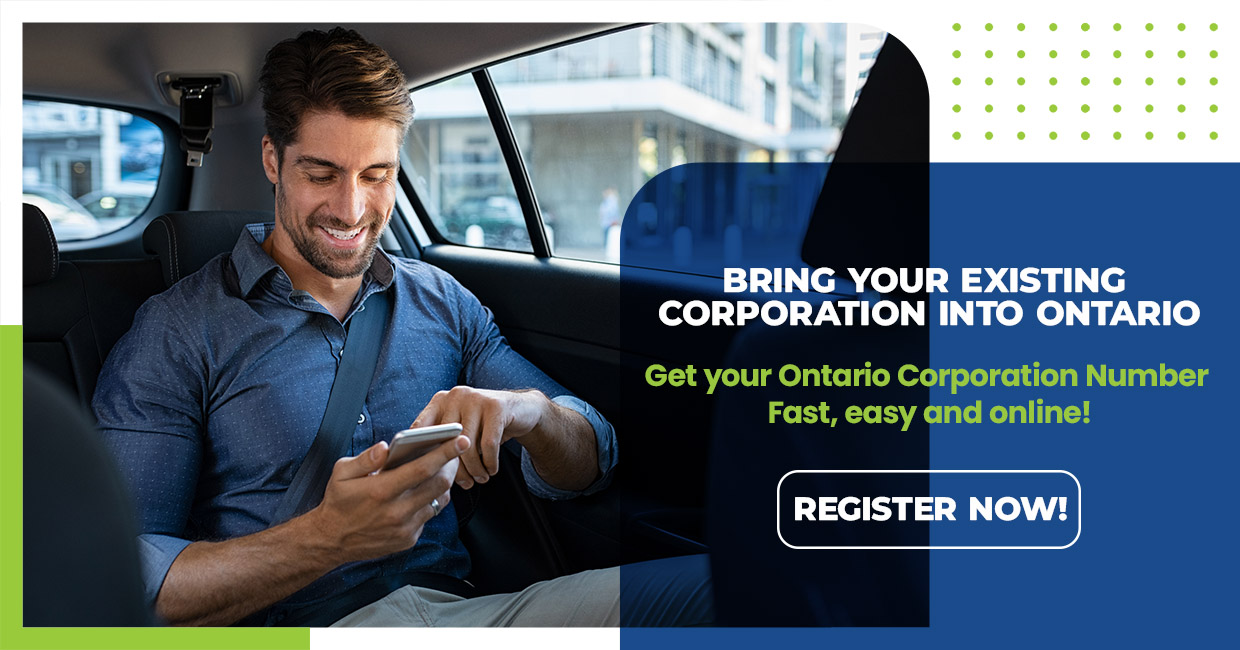 What is required once I complete the Initial Notice (Form 2) filing in Ontario?
Once you have completed the Form 2 filing in Ontario and obtained the Ontario corporate number, you can now operate your business within Ontario and whatever other jurisdiction your corporation currently resides within. You will want to keep track of the sales or revenues generated from the sales within Ontario separate from the sales from where your existing corporation already exists.
You may also be required to set up HST taxation for the sales on the products or services you offer within the Province of Ontario. HST is mandatory when the revenues become $30,000.00 or more within the same fiscal year. Up to and including sales prior to this number, setting up the HST is not mandatory.
What information is required for completing the Initial Notice (Form 2) filing?
Name of Existing Corporation
Date of Incorporation
Home jurisdiction address
Business address within Ontario
Language preferred either French or English
Former name of corporation (if applicable)
Date the business commenced in Ontario
Jurisdiction of Incorporation (Province or Territory of home jurisdiction)
Name and Address of the Chief Manager in Ontario (if applicable)
Name of Office address of Agent for Service in Ontario (if applicable)
Person authorizing the filing of the Form 2 (Director, Officer or other person who has knowledge)
How long does the process take?
The turnaround time in Ontario to file and obtain the Ontario corporate number is typically 2 to 5 business days. This form can only be submitted manually. There is no electronic service available with the Province of Ontario.
If you would like our assistance to complete this filing with Ontario, we offer the service of completing and filing the Initial Notice (Form 2) with the Province of Ontario.
If we can be of assistance, please feel free to reach out to our staff for any clarification or assistance you may require.
inquiries@ontariobusinesscentral.ca
Toll-Free: 1-800-280-1913
Local: 1-416-599-9009
Fax: 1-866-294-4363
Office Hours: 9:00am – 5:00pm
Monday – Friday E.S.T.
Ontario Business Central Inc. is not a law firm and therefore cannot provide a legal opinion or advice. This information is to assist you in understanding the requirements of filing an Initial Notice (Form 2) within Ontario. It is always recommended, when you have legal or accounting questions that you speak to a qualified professional before completing the incorporation.