Become a Contributing Stock Photographer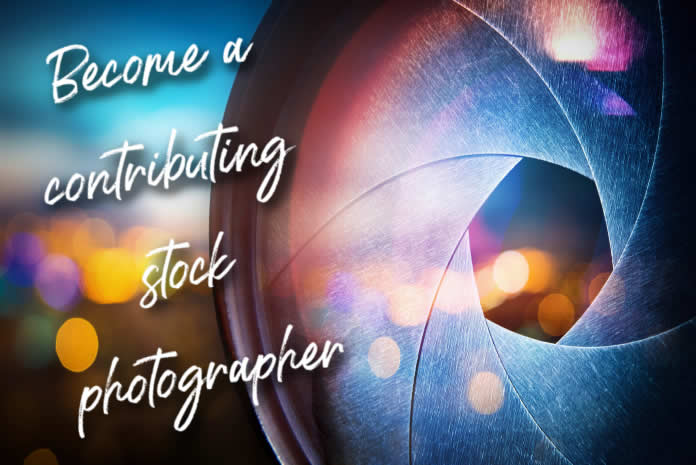 When we think of running a photography business, we generally have the notion that you first need to be hired for a job, then take photos as requested. An alternative to this traditional photographer for hire is stock photography, that lets you do things in reverse, where you're submitting your photos online as you take them, and customers search through and purchase the ones that suit their needs. Business customers typically don't have separate photography budgets to commit to creating images for ads and other promotional materials, so they rely on stock photography as an alternative. Becoming a contributing photographer to a stock image website can open up an entirely new market for your photos.
Well established stock photography sites like iStock, Shutterstock, and 123IRF have millions of users from around the world constantly searching through their database of images. This gives you access to a global customer base, without having to advertise, create a website or invest any money.
There isn't much required to start a stock photography business, besides a quality camera and a good eye for composing a great photo. Professional photographers usually make themselves known for a specific niche, whether it's photos of people, places or products. Find out what you're good at, then hone your skills to become recognized for being an expert in that niche.
How much can you make from selling stock photography?
There are a few different factors that can contribute to earning money with stock photography. Most stock photo sites have a sliding pay scale, where you'll make a higher commission per image if your images are in higher demand and you sell a larger number. The easiest way to build a successful stock photo business and sell more is to simply provide more of what's in demand. Shutterstock actually provides a monthly list of what's most in demand, making it even easier to sell photos because you're providing exactly what people are searching for. One photo can be sold multiple times, so the more in-demand your subject matter is, the better shot you've got at selling the same image over and over.
Know what is required from each stock website
Each stock photography site has different submission guidelines, requirements and rules. Make sure you have a good understanding of what's required, so you aren't caught off guard when submitting photos. Rejections can happen – don't get discouraged if your images are rejected.
If you're including images of people, where they are clearly recognizable, you'll likely have to submit model releases along with those photos. Model release forms are legal documents that give you permission to use, publish or sell the image. It's fully the responsibility of the photographer to obtain this for all images that include identifiable individuals. You can either write your own form or search for free templates for model release forms online.
Register your business
It's a good idea to keep your business organized from the start, so having a separate bank account for business income and expenses is generally recommended. This makes things much easier to figure out when tax season rolls around, or when you're filing HST remittance for the business. The bank will typically want to see the business registration or Articles of Incorporation before they open a business bank account.
Not sure if registering or incorporating is better for you? There are a few differences between the two types of business structures that you might want to familiarize yourself with before deciding. In short, a business registration does not have name protection and personal taxation and liability are directly connected to the owner. Corporations do have name protection and liability and taxes are separate from the owners.
Registering or incorporating your stock photography business also allows you to operate using whatever name you use, so you can market your business, create a website, socials and more. This can be beneficial if you're looking to expand your photography business beyond just contributing to stock photo sites.
Getting those documents quickly is possible with the help of Ontario Business Central, with either standard same-day service or adding a rush to your registration or Incorporation if you've got an appointment that day.
We can help you to register or incorporate your business today in any of these jurisdictions:
REGISTER A BUSINESS
INCORPORATE A BUSINESS
BRITISH COLUMBIA INCORPORATION
Get your photos noticed
When people are looking through stock images, they typically either have an idea in their head for exactly what they want or they're browsing for something to catch their eye. The more eyes you can get on your photos, the more often you'll find someone to buy them. So, you will certainly want to have high quality, in-demand photos to offer – that goes without saying. But, you'll also want to use clear, accurate descriptions of your photos to help make them easier to find.
Fine tune the images you sell
You'll likely have to do some editing to your photos, whether it's something simple like cropping the images or something more complex like colour and lighting edits. There are some fantastic online platforms, like Adobe Lightroom that let you do professional looking photo editing for a small monthly fee. You can even edit right on your phone through their mobile app, store content in their cloud and upload directly to stock photography websites. You'll also find helpful photography tips and inspiration from other professional photographers.
Keep adding new photos
To make the most of your contributions to the stock image sites you use, keep adding new content regularly to your photography portfolio. Demands will change throughout the year, and if people browse the site and like what you're offering, they will start looking for your work specifically. Stay on top of trends in business, the seasons, and upcoming holidays to get a good idea of what customers might start looking for in the near future, so you're able to create a good stock library of images that sell.
Getting into stock photography can be a great way to start a business or supplement your existing employment or photography business. When you're ready to get started, Ontario Business Central is here to make things a snap!
At Ontario Business Central, our commitment is to assisting entrepreneurs, as they embark on their undertaking to build and grow a thriving business. If you have any questions about getting started, please reach out to our helpful and knowledgeable staff.
inquiries@ontariobusinesscentral.ca
Toll-Free: 1-800-280-1913
Local: 1-416-599-9009
Fax: 1-866-294-4363
Office Hours: 9:00am – 5:00pm
Monday – Friday E.S.T.
Ontario Business Central Inc. is not a law firm and cannot provide a legal opinion or advice. This information is to assist you in understanding the requirements of registration within the chosen jurisdiction. It is always recommended, when you have legal or accounting questions that you speak to a qualified professional.