Start your Creative Marketing and Design Business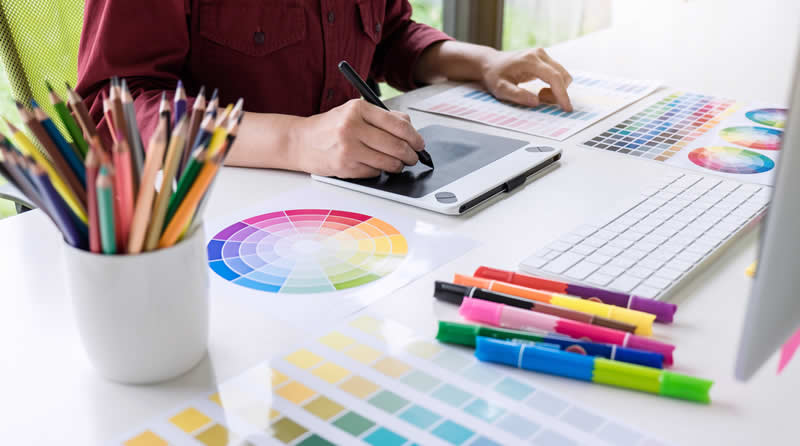 If you've got creativity coursing through your veins, starting a marketing and design business is a great opportunity to work for yourself while showcasing your natural talents. It can also be fairly low cost to start up, relatively easy to get off the ground and is one of the best opportunities for home based businesses.
There are plenty of opportunities for either marketing other businesses or designing creative content. Businesses are always looking for talented freelance designers they can outsource the intricate and time consuming task of marketing to. There is both a commercial and individual need for wonderfully designed content, whether it's for advertising purposes, or for unique wedding invitations.
As you get set up to start your marketing and graphic design business, here are a few things you will want to consider:
1. Set out your business plan
To start building your successful business, you should take some time to put a plan in place. The business plan should outline and consider a number of things, including:
Pricing model: Will you charge hourly rates, a flat rate or base the fee on the scope of the project?
Marketing strategy: How will you advertise and grow your business?
Business structure: Will you operate as a sole proprietor, in partnership with others or as a corporation?
Target market: Are your clients businesses, individuals or both? And how will you attract them?
A business plan is not set in stone, but it helps give you a solid foundation as you launch into business.
2. Register your business
Getting your business registered is one of the first steps you'll need to complete, and it's a lot easier than you might think. Once you're registered, you can open a business bank account or get a business credit card if you need to, and you can begin operating and advertising using the business name.
You have two options to get yourself registered, either registering as a small business or incorporating. There are different advantages to each type of registration, and once you decide which is best for you, Ontario Business Central can help you get registered quickly and inexpensively:
SMALL BUSINESS REGISTRATION:
REGISTERING AN INCORPORATION:
You may want to tailor the business name to the type of design you are doing or the potential customers you are targeting. Before registering the business name, it's recommended that you do a NUANS pre-search to see if that name has already been registered by someone else. If this is the case, you may want to reconsider your business name and make it more distinctive from what already exists before you register your business.
After you register the business, you will want to reference BizPal as well as the city or town you're located in, to see if there are any other business licenses or permits that you may need. This can change, depending on the type of services you're providing.
3. Start getting clients
Do you want to focus more on commercial clients or individuals? Figuring this out can help you get started with narrowing down who your target market is and how you are going to advertise to them. Your business hours and services will have to be tailored to suit the needs of your potential client. For example, if you are creating wedding invitations for a couple, you will have to be open to meeting in person or by video at a time that is convenient for them, which would likely be after work hours or on the weekend. Business clients will most likely want a meeting like this to happen during work hours.
Websites like Upwork and Freelancer are great resources for connecting with clients. Jobs are posted and you're able to bid on work you're interested in doing. If you do a great job and complete the project on time, you can create repeat clients.
As your business grows, your customer base may also change where you are taking on both commercial and individual clients. Adjustments may have to be made to your business plan, licensing and design programs and skills required.
4. Create your portfolio
If you're hoping to successfully achieve business clients, you'll have to show that you've got a proven track record for developing successful marketing campaigns. When you're just starting out, and have not yet landed a commercial client, you may have to invest time in creating mock campaigns, to demonstrate your talent and vision.
Individual clients will want to see that you're able to create exactly what they want, which means you will need to offer them a variety of samples that showcase your capabilities.
If you plan on working for both business and individual clients, it's a good idea to keep two separate portfolios. Business clients are uninterested in looking through your collection of invitations, and likewise, individuals won't be interested in how well your last marketing campaign went. Determining who your clients will be can help you create your portfolio accordingly.
Creating these online through a portfolio website, like PortfolioBox, allows you to easily share your work with prospective clients, regardless of distance. Portfolio sites also make it easy to add new content and customize the work on display, based on the target client.
5. Dress the part
Even if you're a small, 1-person operation, you still want to present yourself as a professional business. When meeting with a client, business owners should absolutely be showing up on time, looking clean and polished conveys a sense that you are trustworthy and take your job seriously. It can be something as simple as a plain dress shirt and pants, as long as it looks professional.
The same applies if you are meeting by video conference. Dress professionally, ensure you are in a quiet spot where you can hear them, and keep the background behind you neutral and professional.
6. Market yourself
In order to grow your business and expand your customer base, you'll have to market yourself. There are plenty of opportunities to create a strong online presence that can draw in new customers and spread the word about your design company.
Here are just a few of the free resources you can use to market yourself and build your online presence:
Google My Business is a free way to have your business appearing on the first page of Google. It doesn't take a lot of time, but it doesn't work if you don't sign up and keep the information up to date, so ensure you do this to take advantage of this free opportunity. It's also one of the best ways for prospective clients in the area to find you, as you will appear within their local results.
Social Media offers plenty of opportunities to market your business, communicate with customers and share information. Get yourself set up with business accounts for Facebook, Twitter and Instagram, and make sure you're monitoring those accounts to keep them updated and replying quickly to any inquiries. If you need some help managing these accounts, a social media management platform can be a great help.
Blogs are great for sharing information, tips and resources or related articles with your clients. They're also fantastic for increasing your search engine optimization so you appear higher up in search results.
When you are ready to register your marketing and design business, Ontario Business Central can help you with getting started to register or incorporate your business quickly and easily. We have been a trusted resource since 1992 helping you make your dreams of business a reality! Please feel free to reach out to our staff for any clarification or assistance you may require.
inquiries@ontariobusinesscentral.ca
Toll-Free: 1-800-280-1913
Local: 1-416-599-9009
Fax: 1-866-294-4363
Office Hours: 9:00am – 5:00pm
Monday – Friday E.S.T.
Ontario Business Central Inc. is not a law firm and cannot provide a legal opinion or advice. This information is to assist you in understanding the requirements of registration within the chosen jurisdiction. It is always recommended, when you have legal or accounting questions that you speak to a qualified professional.