What is a Notice of Change?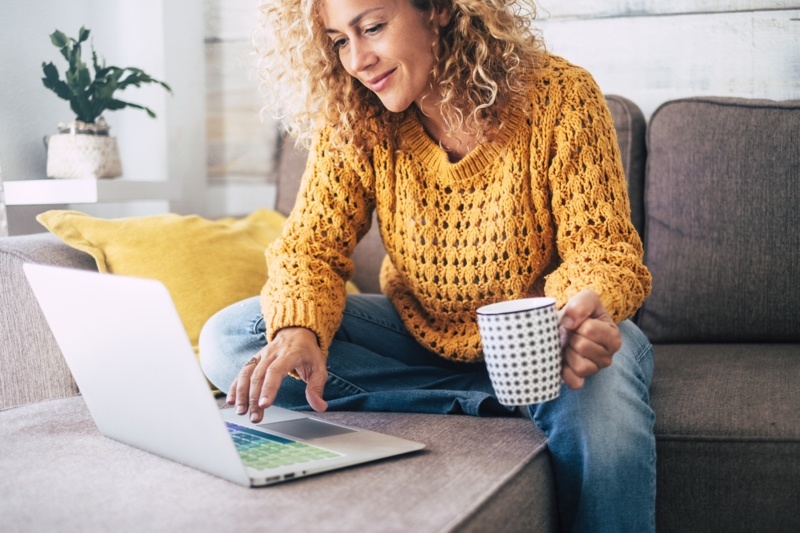 Original Publish date:Sept 26, 2019
When you are looking to make changes to the information on file for your Ontario corporation, you can file an Ontario Notice of Change to quickly and easily make changes and update your corporate record. As a director or officer of the corporation, it is your responsibility to keep the corporate filing current, and filing these changes through Ontario Business Central means you can get everything done and filed electronically on the same day. When filing electronically, any changes become effective in the corporate filing immediately.
What can be updated with this filing?
There are certain details in a corporate filing that are able to be changed through this filing. The corporation and directors information that can be updated include the following:
Registered office address
Adding directors and/or officers
Removing directors and/or officers
Changing director and/or officer addresses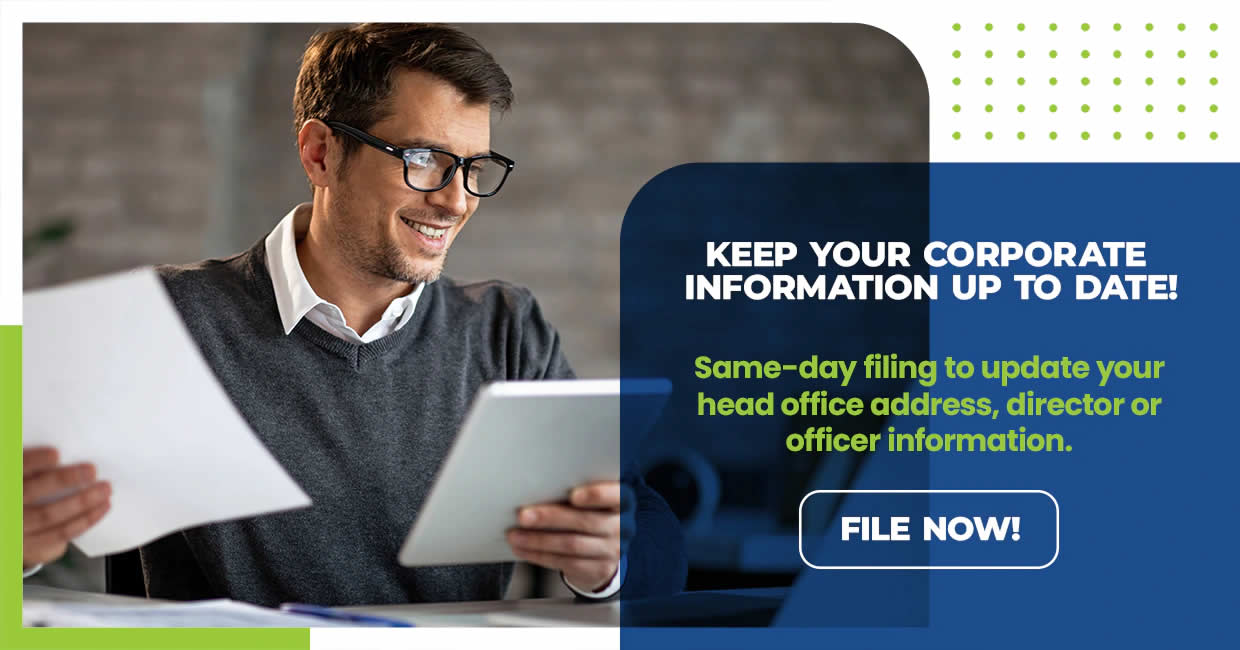 Ontario Form 1 Notice of Change
If the corporation's home jurisdiction is Ontario, you can file the Notice of Change Form 1 to update your Ontario Incorporation.
Foreign Form 2 Outside Ontario
If the corporation's home jurisdiction is outside of Ontario, you can file the Notice of Change Form 2 when the corporation has a physical address within Ontario and the corporation has an Ontario corporate number.
If you are looking to make changes other than those listed above, you may need to file Articles of Amendment. The following changes can only be made through Articles of Amendment:
Filing Articles of Amendment Form 3 is a different process than updating the details of the Ontario corporation. The Articles of Amendment need to be prepared and filed. As an intermediary with the Province of Ontario, we can submit the Articles of Amendment and complete them within one business day. You can also file the articles directly with the Province by either email or mail with a turnaround time of 7 to 15 business days.
Requirement for the Company Key
The Company Key was introduced in Ontario on October 19, 2021 and is provided for all new businesses, whether registered or incorporated, whether profit or non-profit. An existing business has the ability to choose whether they wish to obtain a company key prior to making a change to the business. At Ontario Business Central, we are able to bypass the need for a company key and provide much faster turnaround time for any filing requirements. If you wish to obtain your company key, this item must be completed prior to filing either a Notice of Change or Articles of Amendment.
Please note that the company key is going to be mailed to the business address currently listed for the corporation. If the corporation address is not up to date, the Notice of Change should be filed prior to requesting the Company Key. There are significant time delays in obtaining the company key as well and until you receive the company key, you cannot make any change to your existing corporation.
Ontario Business Central is able to assist with the manual filing of the Articles of Amendment to make the changes to your Ontario corporation's name, corporate structure and minimum or maximum number of directors. Canada Revenue Agency does not automatically receive updates for Amendments filed, so it is important to update your corporate record in their files, especially if you are changing the business name.
How can a Notice of Change be filed?
There are two options for filing a Notice of Change for an Ontario corporation. The government forms can be filed directly with the Province of Ontario using their manual form and mailing or emailing it to them, or you can use the services of a private company to complete these changes faster. The same Form 1 is used to file both the Initial Return and a Notice of Change for an Ontario corporation.
Filing manually by mail or email, through the Province of Ontario can take up to 25 business days to have the change completed, and there is no confirmation sent out once the change has been filed. After 25 business days, you may choose to order an entity report (formerly called a corporate profile report), in order to confirm that the changes were completed. The fee to complete the entity report or corporate profile report is $69.63. An entity profile report will show the current corporate information on file with the public record, including:
Current corporate name
Date of incorporation
Business address
Officer and director information, including names and addresses
Confirming if there are active or expired trade name registrations
If the change is filed manually, by mail, sometimes proof of completion is requested. In this case, an Entity Profile Report can be ordered to reflect the most recent and up-to-date corporate information. If you have any business accounts with the Canada Revenue Agency (CRA), you will also want to update these with new addresses, directors or officers. If you wish to file these changes manually, you can find more information about how to file here:
Manual Form 1 Notice of Change
If you choose to complete the filing electronically, Ontario Business Central can complete this all on the same day for you and send a confirmation of the filing once everything has been completed.
Before the change is completed and filed, a draft of the changes will first be sent to you by email. This gives you the chance to review everything before it is completed with the Province of Ontario and make additional changes if needed. Once you approve the changes, the change is completed, updating your company information and a confirmation of filing is sent to show the new corporate information on file.
Many business owners have the misconception that the Articles of Incorporation will be revised and updated with the new corporation information. The Articles of Incorporation do not change, and instead the Notice of Change is a subsequent filing to keep as a confirmation of filing, together with other corporate documentation, such as the Articles of Incorporation, to show what changes were made and when.
File a Notice of Change Electronically
Updating your company information, including the physical address, mailing address, and officer and director information for your Ontario corporation, can be done quickly and easily. And, you can receive confirmation that all of your corporate information in the public record is accurate.
If you have any questions about how you can make changes to your corporate filing, please feel free to reach out to our staff for additional information and assistance.
inquiries@ontariobusinesscentral.ca
Toll-Free: 1-800-280-1913
Local: 1-416-599-9009
Fax: 1-866-294-4363
Office Hours: 9:00am – 5:00pm
Monday – Friday E.S.T.
Ontario Business Central Inc. is not a law firm and cannot provide a legal opinion or advice. This information is to assist you in understanding the requirements of registration within the chosen jurisdiction. It is always recommended, when you have legal or accounting questions that you speak to a qualified professional.