The Essential Guide to Starting A Small Business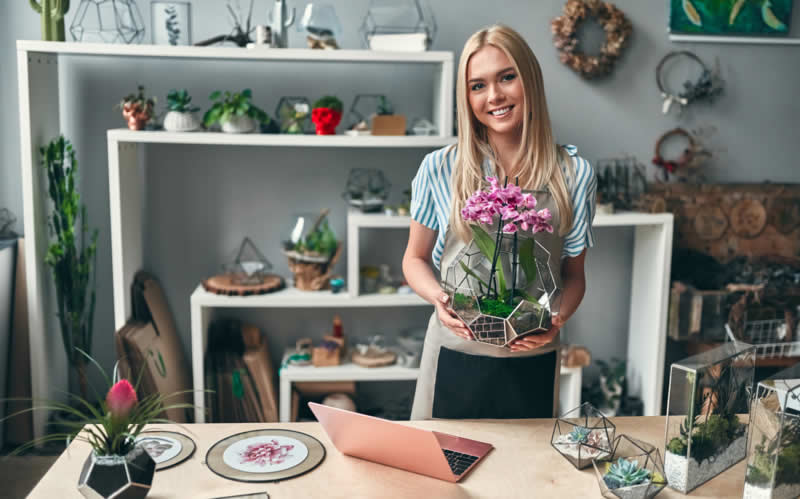 Originally Published: Nov 5, 2019
You have a great idea for a business, and you've made the decision to start your business to become an entrepreneur – that's great news, but where do you even get started?
Taking the step towards becoming your own boss can sometimes feel like a leap of faith and can involve some trials and error before you can narrow down what works best for you. But, there are some things that you can do to help ensure you're starting off on the right track, and leading yourself and your business down the path of success.
Let's take a look at a few essential things you will want to do while you establish and grow your new business:
1. Choosing your business name
The name you choose for your business helps create your brand identity and can have a major impact on the success you see. You will want a business name that's memorable and makes your business stand apart from the competition, but you will also want it to be a name that lets your customer base know what your business does.
You will generally want to have both a distinctive and descriptive element to your business name. The distinctive element is what gives your business name its uniqueness, where the descriptive element tells people what you do.
| | |
| --- | --- |
| DISTINCTIVE | DESCRIPTIVE |
| UNICORN | CUPCAKES |
| BEACH WAVES | SURF BOARDS |
| GLITTER & LACE | JEWELLERY |
Before you complete your business registration, you have the opportunity to pre-search the business name you've chosen to see if anyone else has already registered the name or something similar.
When you include a name search with your small business registration, Ontario Business Central searches for different variations of the business name for any existing businesses, corporations and Trademarks that are similar. This gives you the chance to make changes to the business name before registering it.
2. Getting your business registered
After finalizing what your business will be called, it's time to determine the business structure and get the business registered. There are two options for the type of business you are able to register. You can register your business as either a small business or a corporation, and before you decide, you'll want to understand the differences between these two types of business structure setups.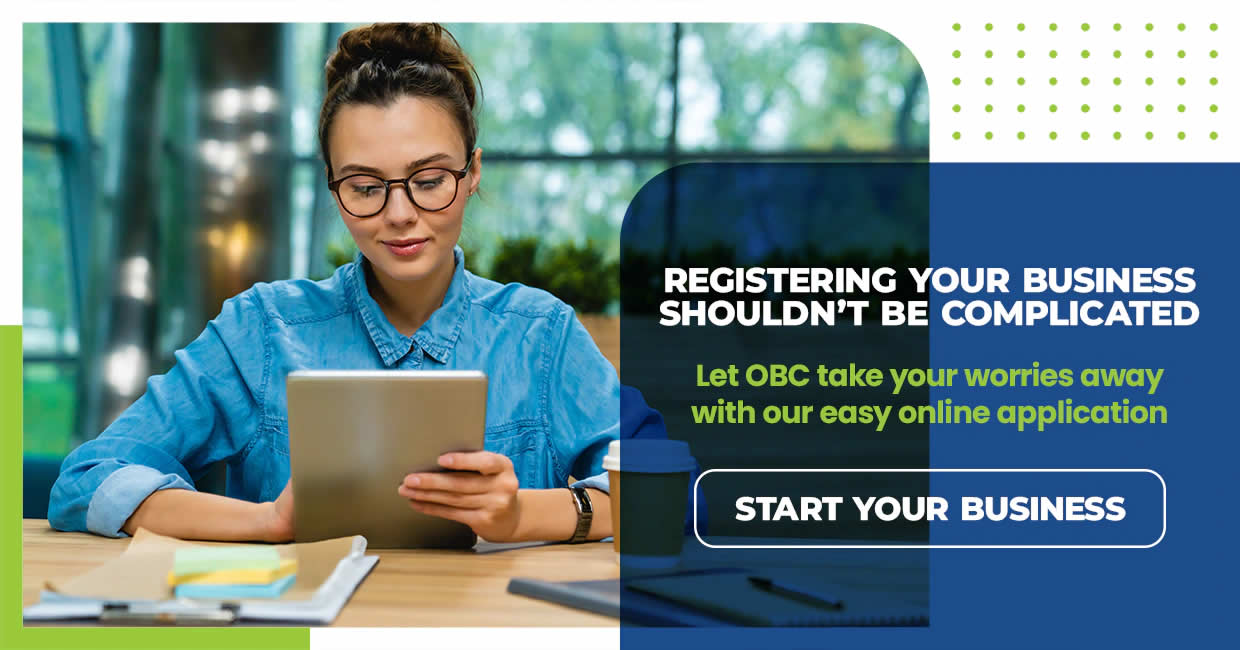 A corporation is considered a separate entity from those who own it, so there is limited liability for the owners and income tax for the corporation is filed separately. With a small business registration, individuals file business tax together with their personal tax returns. Corporations also have name protection, where small businesses, such as Sole Proprietorships and General Partnerships, do not. If name protection for your business is important to you, you may want to consider incorporating.
Whether you want to proceed with a small business registration or incorporate, Ontario Business Central can help you get started in the following Provinces:
SMALL BUSINESSES
INCORPORATIONS
BRITISH COLUMBIA INCORPORATION
3. Figuring out the licences and permits you might need
Each town, city and province will have different requirements for business licenses and permits, and depending on the type of business you're doing, there might be different requirements. You can either contact the municipality where your business is located directly, or you can check out BizPal to get a better idea of what you might need to get in order to operate business within the requirements of your specific area.
Any license or permit issued by cities and towns are different than the Business Registrations or Incorporation issued by the Province, and may have different renewal dates, so it's important to know the difference and understand when each requires renewal.
4. Creating your business accounts
You might find that your small business will benefit from having accounts separate from your own personal accounts. This includes business loans, line of credit, business bank accounts and credit cards that can help you keep better track of your business expenses and revenues. The bank will likely want to see a copy of your Business Registration or Articles of Incorporation before they create a business account for you. The business owners names on all business documents should match what is listed on your personal ID.
You may also want to consider creating any accounts with Revenue Canada that might be required. These include HST, Import/Export and Payroll. You can either create these accounts from the start, or contact Revenue Canada to register the accounts when they are needed. Keep in mind that if you are registering the accounts, you will have to begin submitting returns to Revenue Canada, even if there is nothing to declare. For instance, if you create an HST account, but do not have any tax obligations to report, the "$0" returns will still need to be submitted at the required reporting period.
Other accounts you may want to look into are supplier or wholesaler accounts, where you may be able to take advantage of special pricing or other deals.
5. Determining a business plan
It helps to get where you're going if you have a plan for getting there. Of course, business plans can take detours or be entirely changed, but it's always a good idea to map out your route to success. If you have a goal in mind, create a timeline for achieving it along with milestones to mark your progress along the way. Your plan should also include a budget, so you can have a financial plan to anticipate your startup cost, any expenses along the way and what your sales need to be in order to hit your milestones. Entrepreneur Magazine outlines the 7 Steps to a Perfectly Written Business Plan to help get you started.
6. Establishing a strong online presence
Let's face it – the internet has become the go-to resource for pretty much everything anyone is looking for. Not establishing your online presence can have a serious impact on your business, even if you're just running a small local shop. Customers want to find what they're looking for quickly and easily, so you want them to find you and know that you are able to offer what they are looking for. Your marketing plan should include how you plan on establishing, maintaining and expanding your online presence.
Much of your online presence can be established at little or no cost. This includes:
Website – You can hire a company or individual to do this for you, but if you're starting out on a limited budget, there are some amazing website builders that you can use for free.
Facebook – This continues to be one of the strongest social media platforms out there. It allows customers to easily contact you, see your reviews and browse images of your products.
Google My Business – Keeping your business information updated with Google My Business gives customers all of your essential information in one spot – contact info, hours of operation, website and directions right to your location.
The easier it is to find you and interact with you, the better experience the customer will have and the better opportunity you will have to grow and expand your success. If you've established yourself online on multiple platforms, you will want to ensure you're regularly updating, maintaining and monitoring each of those. The last thing you will want is a customer reaching out to you and not getting a timely response. Social media management software like Buffer or Hootsuite can help make managing your different accounts much easier.
7. Finding the perfect business location
Determining your business location is another factor that can have a tremendous impact on the success you have with selling your product or service. The nature of your business may allow you to operate as an online business or home based business. If this is the case, there is no need to find a separate location for your business startup. But, if you require a retail storefront or office space, there are some things you'll want to keep in mind before settling on your business location, including real estate costs, other competitors and the area demographics of your target customer base. If your business location changes at any point, you will want to ensure you update all relevant licenses and permits to reflect this. Sole Proprietorships and General Partnerships can be updated through an amendment, and Corporations can be updated through a Notice of Change. Business bank accounts and other accounts may also need to be updated, so you don't miss any important mail.
8. Delegating what you don't need to do yourself
Every person has the same amount of hours each day. There is so much that will need to be done to create, establish and grow your business, and you will have to realize that you can't do it all yourself with the 24 hours you're given each day. Figure out where your time and talents are best spent and see what tasks can be delegated. Although you might want to have control over every aspect of your business, it might not be feasible, and you may be taking time away from the parts of your business where it's better spent. It may also be more beneficial to have professionals completing certain tasks, such as income tax filings, to ensure that these are done properly, especially if you aren't very savvy with filing income tax or business tax returns. Finding capable individuals or companies to take over certain tasks lets you focus on other things, without worrying about those tasks being done properly.
9. Download apps that can help make running your business easier
There are a number of incredibly helpful apps that you can download to help keep you organized and let your business run smoothly. Some of the apps are available for free, and others do have fees. When you're weighing the costs of different software or apps, consider the benefits you'll be getting – for example, keeping your meetings and appointments scheduled, so you don't overbook or miss anything. Sometimes, even though there is a cost associated, the benefits can far outweigh the fees.
10. Don't forget about yourself!
You may want to throw yourself entirely into your new business and dedicate all of your waking hours to building that business. It's important to remember that you are only one individual and still need to take time for yourself so you don't burn out. It is still possible to create and grow your business while still taking time away from the business for yourself. Enlisting the help of friends and family, as well as working on building your team can give you more opportunity to take this necessary time.
When you're ready to get started, Ontario Business Central can help you in registering or incorporating your business quickly and easily.
Should you have any questions, please feel free to reach out to our staff for additional information and assistance.
inquiries@ontariobusinesscentral.ca
Toll-Free: 1-800-280-1913
Local: 1-416-599-9009
Fax: 1-866-294-4363
Office Hours: 9:00am – 5:00pm
Monday – Friday E.S.T.
Ontario Business Central Inc. is not a law firm and cannot provide a legal opinion or advice. This information is to assist you in understanding the requirements of registration within the chosen jurisdiction. It is always recommended, when you have legal or accounting questions that you speak to a qualified professional.